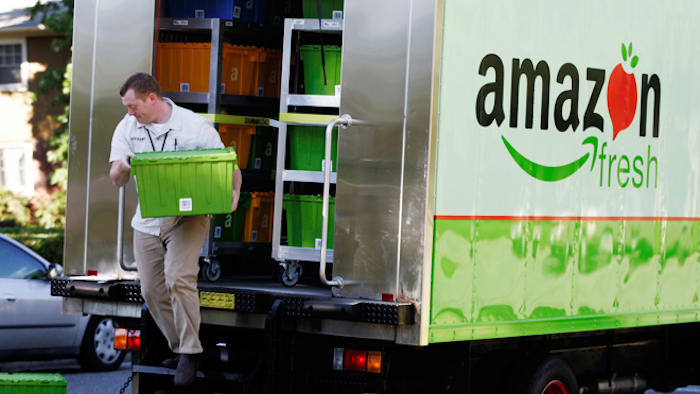 Amazon.com is reportedly planning a drive-thru grocery store in a potentially major shift for both the e-commerce giant and the grocery industry.
The Silicon Valley Business Journal reports that Amazon hopes to enable customers to purchase groceries online and schedule a pickup at its drive-through.
Amazon is rumored to be the tenant of a proposed grocery development in the San Jose suburb of Sunnyvale.
The company's Amazon Fresh program already delivers online grocery orders to customers' homes in select markets, but analysts said that a physical pickup location could ease the complexities and added costs of shipping to individual households.
It could also represent another effort by the company -- which eventually hopes to make certain shipments via drone-- to get items to customers faster.
Numerous other companies offer delivery or pickup grocery service, including a drive-through proposal tested by Walmart earlier this year.
Amazon, however, could enhance those services by applying its existing logistical technology to the process. TheJournal reported that Amazon's distribution center robots can fill orders in minutes compared to hours for an employee.
The move would also come at a time of upheaval for the brick-and-mortar grocery sector amid competition from both discount retailers and an increasingly web-savvy consumer base.