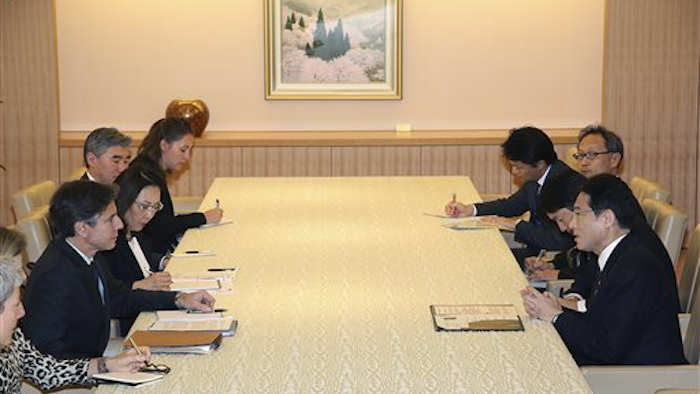 Japan and the U.S. are moving closer to reaching agreement on market opening measures needed to conclude a Pacific Rim trade pact, a top U.S. envoy said Friday, urging Japanese business leaders to help bridge the last, difficult disagreements.
U.S. Deputy Secretary of State Antony J. Blinken urged members of the Japan Association of Corporate Executives to "pick up your phones" and use their influence to convince officials to work toward a final consensus on the Trans-Pacific Partnership, or TPP.
"The contours of a final agreement are coming into focus," Blinken said. "We need you to make the calls, convene the meetings and remind the officials of the benefits this agreement will bring."
Agreement between Japan and the U.S. is essential for forging the free-trade arrangements among the dozen nations involved in the U.S.-led effort. Both sides say they are close to an accord, but that key gaps remain. America's great rival for influence in Asia — China — is not part of the Pacific rim trade talks.
Talks between Tokyo and Washington have dragged on as the two sides bicker over sensitive issues such as exports of American beef and pork to Japan and Japanese exports of auto parts to the U.S.
President Barack Obama has made the TPP a part of his effort to "rebalance" U.S. commitments toward the Asia-Pacific and boost exports to the fast-growing region.
Blinken, who was appointed to his position last month, said the trade pact would help buttress security in the region, and "assure our partners that our commitment reaches beyond the military."
Wrapping up an East Asian tour that took in South Korea, China and Japan, Blinken stressed the importance of avoiding disruptions to shipping from territorial disputes in the region.
"Free commerce requires free waterways for ships to pass. It requires that the needs of business take precedence over squabbles over rocks and shoals," he said, referring to disputes between China and Japan and other countries over islands in the East China Sea and South China Sea.
The U.S. says it does not take a stance on the various claims, but expects countries to resolve any disputes peacefully and in line with international law. That is doubly important for Asia, since almost a third of crude oil shipments and more than half of liquefied natural gas supplies pass through trade routes in the South China Sea, he said.
"Uncertainty fueled by competing China sea claims affects energy security. It affects trade and commerce and creates a more unpredictable investment environment," Blinken said.