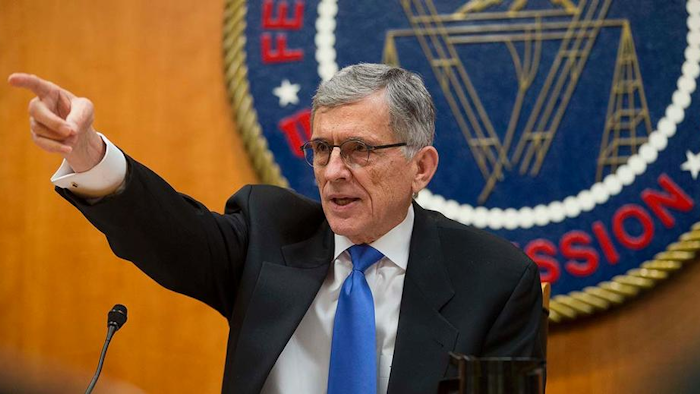 The Federal Communications Commission voted Thursday to protect so-called "net neutrality" by establishing uniform standards for those using the Internet.

The commissioners split 3-2 along party lines on the proposal, which reclassified high-speed Internet as a telecommunications service under federal law–a step that would regulate it as a public utility rather than private enterprise.

In practice, the rules required Internet service providers to treat all content equally by prohibiting them from blocking traffic or from charging companies for access to faster service.

Consumer groups and web companies that supported the policy argued the creation of "fast lanes" for larger companies would price out smaller competitors. Netflix, in particular, expressed concerns about harsher terms for its streaming content.

President Obama called for net neutrality policy last fall and vowed to "protect a free and open Internet" in his latest State of the Union address.

"Our challenge is to achieve two equally important goals: ensure incentives for private investment in broadband infrastructure so the U.S. has world-leading networks and ensure that those networks are fast, fair and open for all Americans," said FCC Chairman Tom Wheeler.

Critics of the policy, however, characterized the changes as sweeping new regulations on the Internet, part of which would require providers to act in the "public interest." Telecom and cable companies strongly opposed the regulations and remain likely to file a legal challenge and to take their concerns to the Republican-controlled Congress.

"The Internet is not broken," said dissenting Commissioner Ajit Pai. "There is no problem for the government to solve."

The FCC rules also included mobile data service, as well as established requirements for consumer privacy and for Internet access for those with disabilities or living in remote areas.

In addition, the commission also voted 3-2 Thursday to enable the cities of Chattanooga, Tennessee and Wilson, North Carolina to establish their own Internet providers in defiance of state laws, potentially opening the door to more cities looking to build local networks.