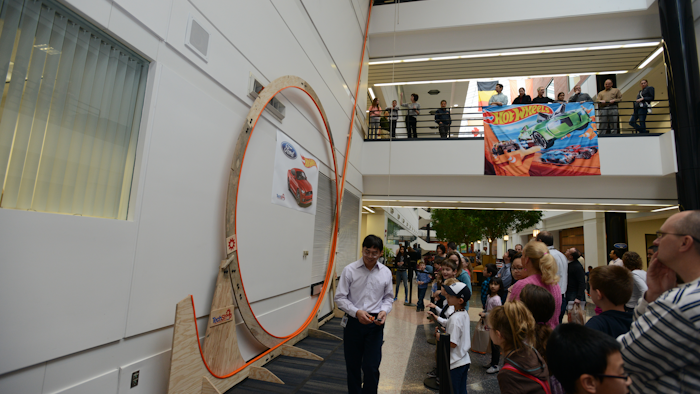 Talk about epic parent-child projects: Ford employee Matt West and his son Blade set up a massive Hot Wheels ramp at Ford's Research and Innovation Center in Dearborn on the company's "Take Your Child to Work Day," breaking a Guinness World Record in the process.
The Hot Wheels track sent a toy car careening around a 12.5 feet high ring, breaking the previous record of 9.9 feet.
West works as a dynamometer technician in the research and innovation center.
"It started as part-fun, part-physics lesson with my son at home," he said. "We built one in our playroom, and then built a five-foot-tall loop in our backyard. When people at Ford heard what we were up to, everyone thought it would be a great way to get young people excited about science and engineering by trying to break the world record on Take Your Child to Work Day."
Making sure the toy car would have enough momentum to go all the way through a record-breaking loop was a challenge for both the kids and the adults. West and Blade enlisted the help of West's fellow Ford employees John Jaranson, a technical expert in interior systems, and Grant Compton, a computer-aided design engineer. They created a computer-generated model of the loop in CATIA, the same software often used for car design.
The physical loop was built out of four-by-eight-foot pieces of plywood bolted together. Workers at TechShopDetroit, a membership-based workshop and fabrication studio, built the wooden parts based on the digital design files. Jaranson knew Will Brick, the general manager of TechShop Detroit, through a company collaboration in which Ford employees get three months of membership at TechShop for free. There, the team cut the sheets of plywood using a water jet cutter.
The resulting ramp was more 35.5 feet tall, or more than three stories high.
West hoped that this particular "Take Your Child To Work Day" would show kids how they can apply the kind of math and physics in use at the Ford research center to the toys they have at home.
"On a track, a Hot Wheels car can only go so fast, so carrying the momentum of the vehicle through an entire loop is harder than you might think," said West. "In a world where kids are inundated with TVs and tablets, I thought teaching my son with actual moving vehicle models would be so much more rewarding, and then it took on a life of its own."