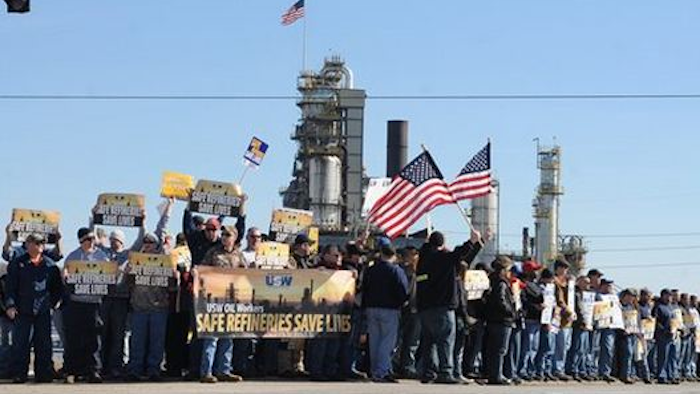 A nearly two-week-old strike at oil refineries appears set to continue into next week as talks between workers and industry representatives remain on hold.
 
The United Steelworkers union and Royal Dutch Shell, the lead negotiator for several companies involved in contract talks, each indicated negotiations will resume on Feb. 18. Shell said it was gathering information requested by the union, with a spokesman adding the company will be "opening our books to them with some sensitive data" when talks resume.

USW said it was prepared for talks at any point. The union is seeking benefit and safety improvements, as well as to curb the industry's use of non-union subcontractors. Talks also broke down late last week before briefly resuming.

Some 3,800 USW members at nine refineries -- which account for some 10 percent of the nation's processing capacity -- walked off the job at the beginning of the month after their contract expired, the largest refinery strike since 1980.

Three of the nine refineries experiencing strikes -- two in Texas and the other in California -- have reported equipment failures this month, though analysts said it's too early to attribute them to the sudden changes in plant operations. Meanwhile, union officials have indicated the strike will expand to refineries in Ohio and Indiana this weekend.

A full strike by the approximately 30,000 USW workers at the nation's refineries would impact about two-thirds of the national processing capacity.

The labor unrest comes at a volatile time for the oil industry, with crude prices plummeting in recent months as global supply outpaced demand. Reports said more than 100,000 workers across the globe have now lost their jobs due to the plunge.

Crude prices did jump during trading Thursday amid industry cuts and a weaker dollar, as well as due to remarks from Shell CEO Ben van Beurden projecting a rapid price recovery should production cuts continue. One expert attributed the muted recovery to traders attempting to mitigate potential losses, adding, "No one wants to be sitting here holding the bag if this thing runs up."