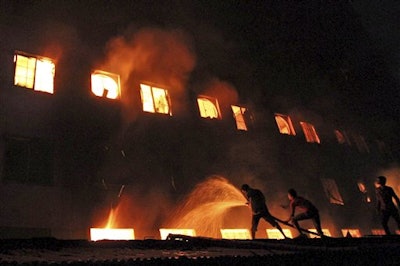 DHAKA, Bangladesh (AP) — Police in Bangladesh used batons, rubber bullets and tear gas Wednesday to stop ongoing protests by garment workers demanding higher wages, while factory owners feared they may miss shipments to the United States and Europe.
The fifth day of protests in two industrial districts near Dhaka, the capital, forced authorities to close more than 100 factories for the day, police and news reports said. The districts — Gazipur and Narayanganj — house hundreds of factories that supply garment products to numerous global brands, including Wal-Mart and H&M.
After a three-day work suspension in the wake of the protests, authorities attempted to resume operations in the factories on Tuesday and Wednesday, but the efforts failed.
The workers are demanding 8,114 takas ($100) instead of the current monthly minimum wage of 3,000 takas ($38), which is the lowest in the world. Bangladesh is the world's second-largest garment manufacturing country after China.
Factory owners say it is difficult for them to significantly raise the minimum wage because the global brands are unwilling to pay higher prices amid stiff competition and a protracted economic crisis in the West.
The government earlier set up a panel to review the minimum wage for garment workers who are unwilling to wait until November, when the panel is supposed to make its recommendations.
S.M. Mannan, a vice president of the Bangladesh Garment Manufacturers and Exporters Association, said it would be difficult for the factories to confirm shipments as scheduled. "If we fail to operate our factories fully, how will we be able to keep our word to buyers?" he said.
A.K.M. Mosharaf Hossain, an assistant director of the Industrial Police in Gazipur, said the workers dispersed there after the police moved in Wednesday, but he did not say whether there were any injuries.
The workers blocked two major highways, disrupting traffic for hours during the morning rush hour, he said.
Hossain said that most factories resumed work in the troubled area in the morning, but that authorities closed many of them, fearing further violence.
The Bengali-language Prothom Alo newspaper, citing a police official, reported that clashes in Narayanganj injured at least 10 people, with security officials firing rubber bullets. TV footage showed female workers fleeing streets in the district as police moved in.
Bangladesh earns $20 billion a year from garment exports, mainly to the United States and Europe. The sector employs about 4 million workers, mostly women.
The harsh and often unsafe working conditions in Bangladesh's garment industry drew global attention after the collapse of an eight-story factory building killed more than 1,100 people in April. The sector has also experienced numerous fires, including one last November that killed 112 workers.
Authorities in Bangladesh and global clothing companies have pledged to improve safety standards.