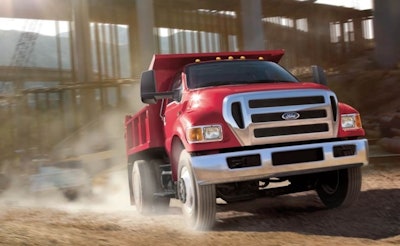 AVON LAKE, Ohio (AP) -- Ford Motor Co. is announcing that it will build its Ford F-650 and F-750 trucks at its assembly plant west of Cleveland.
The automaker says it is shifting production from Mexico to its Avon Lake plant. Production will begin early next year.
The move announced Friday is part of a pledge Ford made with union leaders in 2011 to shift medium-duty truck production from Mexico.
The company says it's investing $168 million to make the change.
---
Release from Ford:
AVON LAKE, Ohio--(BUSINESS WIRE)--Mar 7, 2014--Ford today announced production of its all-new 2016 F-650 and F-750 medium-duty trucks will shift from Mexico to Ohio Assembly Plant starting early next year, with the trucks on sale in spring 2015.
As part of the production shift, Ford is investing $168 million to retool the Cleveland-area plant for the new medium-duty trucks. Ohio Assembly Plant, which opened in 1974, currently produces the Ford E-Series lineup of vans and other commercial vehicles.
Ford E-Series cargo and passenger van production will end later this year, while E-Series cutaway vans and stripped chassis will continue to be built in Ohio through most of the decade. Replacing E-Series vans is the all-new 2015 Ford Transit that starts production this spring at Ford's Kansas City Assembly Plant in Claycomo, Mo.
"Shifting production of the 2016 Ford F-650 and F-750 medium-duty trucks to Ohio Assembly Plant helps secure a solid future for the dedicated workers at this facility," said Joe Hinrichs, Ford president of The Americas. "Building these trucks in-house will utilize our expertise from our other tough truck and commercial vehicle lines to give our customers a better product at a competitive price."
The production shift from Mexico is part of the collective bargaining agreement Ford and the United Auto Workers negotiated in 2011. Ford's announcement today confirms the company is moving forward with the plan for Ohio Assembly Plant.
"We are extremely pleased that the dedicated, highly skilled and highly motivated UAW members of Ohio Assembly Plant have been selected to build the next-generation Ford F-650 and F-750," said Jimmy Settles, UAW vice president and director of the National Ford Department.
"We're confident our outstanding work force will build these Ford medium-duty trucks to the highest levels of quality, reliability, dependability and craftsmanship – the factors that matter most to the demanding, hard-working owners of these vehicles."
The 2016 Ford F-650 and F-750 will set a new standard for commercial work as the toughest, most work-ready, best value Ford medium-duty trucks ever.
Anchoring Ford's commercial truck range – America's best-selling, broadest lineup of commercial trucks for 29 years – the new F-650 and F-750 will deliver an impressive combination of commercial-grade quality, capability and convenience. This now includes segment-exclusive Ford gasoline and diesel engines, outstanding performance at an affordable price, and comfortable, modern interiors.
Several upgrades to the F-650 and F-750 were announced this week at the National Truck Equipment Association's Work Truck Show in Indianapolis, including:
Upgraded, versatile engine choices
Newly available is the second-generation Ford-built and proven 6.7-liter Power Stroke ® V8 turbo diesel. The engine is paired with a commercial-grade six-speed 6R140 automatic transmission with available power takeoff provision to run accessories in the field, a dump body, crane and other vocational equipment.
Ford remains the only automaker to offer a gasoline engine for medium-duty trucks. The 6.8-liter V10 is available for both F-650 and F-750 models with the 6R140 six-speed automatic transmission. This engine can be factory-prepped for converting to compressed natural gas or liquid propane gas as cost-effective alternatives to unleaded gasoline.
Built Ford Tough testing to ensure durability
Grueling Built Ford Tough testing simulates the demands Ford customers will subject the truck to throughout its lifetime.
Testing for F-650 and F-750 includes the industry's first robotic test driving program. The robotically driven trucks are expected to repeatedly perform tests on torturous surfaces that can compress 10 years of daily driving abuse into courses just a few hundred yards long. Surfaces include broken concrete, cobblestones, metal grates, rough gravel, mud pits and oversized speed bumps.
Great value
By controlling every aspect of development in-house – from design to manufacturing to service – Ford can offer F-650 and F-750 customers exceptional value, convenience and cost of ownership.
To keep work trucks on the road and in the field longer, a network of more than 3,000 Ford commercial truck and retail service dealers is ready to tackle any service need with minimized travel time and extended service hours.
Work-ready
The 2016 F-650 and F-750 make prepping for medium-duty jobs easier than ever. Auxiliary components such as the diesel exhaust fluid tank and standard fuel tank are now located under the cab instead of behind it on the frame. This cleaner, cab-to-axle design satisfies more truck body applications, and makes customizing easier, which helps reduce the customer's final costs and time to delivery.
More information regarding the all-new 2016 Ford F-650 and F-750 medium-duty trucks can be found here.