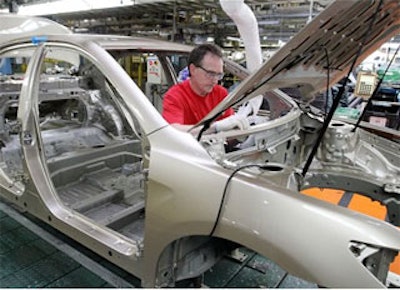 DETROIT (AP) — The owner of a German factory that makes a key resin used in auto parts said Thursday that the plant will be out of commission until at least October.
The Evonik Industries AG plant was badly damaged in a March 31 explosion and fire, setting off a mad scramble by global automakers to find substitute materials. A shortage of the resin is threatening to cut global car and truck production just as the U.S. auto sales recovery is accelerating.
The plant in western Germany makes at least a quarter of the world's PA-12, a nylon resin used in fuel and brake lines and hundreds of other auto parts. It's even used in household and sporting goods.
PA-12 is unique because it doesn't absorb much moisture and it resists deterioration when carrying gasoline and other liquid hydrocarbons. The plant also makes 70 percent of the global supply of CDT, a key ingredient of PA-12 that's used by other companies that make PA-12.
Automakers and their parts makers have been trying to divert their remaining supplies of PA-12 to lines and connectors that carry fuel and brake fluid. They're also trying to fast-track testing of possible substitute chemicals. So far no automaker has reported any production slowdowns. But if the industry can't come up with a substitute, the problem could cause a shortage of some models similar to what happened after last year's earthquake and tsunami in Japan.
"In the present state of knowledge, the CDT plant is expected to be operational again in the fourth quarter of 2012," Evonik said in a statement. The company also said it is offering customers substitute chemicals for PA-12 that do not require CDT. Spokesman Thomas Lange said in an email that the company is checking with customers to determine what's suitable for fuel lines.
Earlier this month Evonik said the plant would be down for at least three months.
Authorities are still investigating the cause of the blast, which killed two workers.