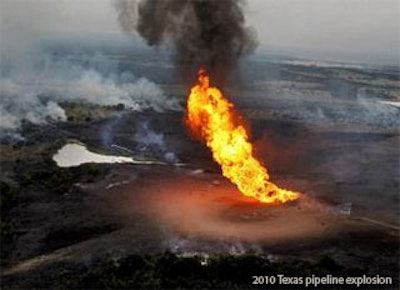 ERIE, Ill. (AP) — A fuel pipeline exploded beneath a western Illinois cornfield, sending flames hundreds of feet into the sky and leaving a 15-foot-deep crater before pipeline crews were able to stem the flow of fuel and bring the fire under control, authorities said.
Nobody was injured in the explosion, which was reported around 11:15 p.m. Monday near the town of Erie, 27 miles northeast of Davenport, Iowa. Dozens of residents were evacuated from their homes as a precaution and the flames could be seen for dozens of miles, fire officials said. Most residents were allowed to return by early Tuesday morning.
Residents reported hearing a loud blast, said Erie Fire Chief Doug Rutledge, who said the hole created by the explosion was about 20 feet wide and 40 feet long.
"It had a roar like a jet engine," with flames as high as 250 feet, Rutledge told the Daily Gazette in Sterling, Ill. "It was something else."
The pipeline was carrying a mixture of ethane and propane from Iowa City, Iowa, to a petrochemical plant in Morris, Ill., 62 miles southwest of Chicago, said Rick Rainey, spokesman for the pipeline's owner, Houston-based Enterprise Products Partners.
Enterprise Products workers were able to remotely turn off a valve to limit the gas flow to the site, fire officials said.
Rainey said the fuel did not spill, but either vaporized or burned off. He said it is too soon to say what caused the explosion, and that the company was investigating.
A spokesman for the U.S. Pipeline and Hazardous Materials Safety Administration said that agency would investigate, and an inspector was en route to the explosion site. The investigation will include determining if the operator was in compliance with federal pipeline safety regulations.
An Illinois Environmental Protection Agency spokesman said officials there were aware of the blast and able to assist if needed, but were not directly involved in the investigation.