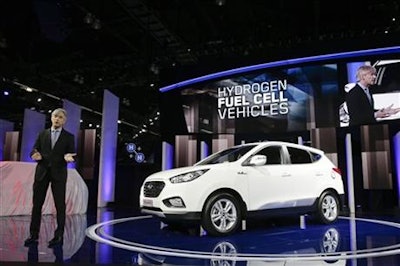 LAS VEGAS (AP) — Toyota said Monday that it expects to sell more hydrogen-powered electric cars in the U.S. than previously planned.
The car, which Toyota calls FCV for now, uses hydrogen as fuel for a battery and emits only water vapor as exhaust. Toyota said the car will go on sale in the U.S. in 2015. Rival automakers Hyundai and Honda have also said they'd start selling cars with that technology in the U.S. that year.
At the International CES, the technology industry's annual gadget show in Las Vegas, the Japanese automaker said it will focus on selling cars in California at first.
Bob Carter, senior vice president of automotive operations for Toyota Motor Sales U.S.A. Inc., said the U.S. branch of Toyota had recently increased its request for vehicles to sell in the U.S. market. He said that a 95 percent cut in production costs from the initial prototype would help Toyota make fuel cell cars that are "a reasonable price for a lot of people."
Toyota Motor Corp. has promised to sell its fuel cell cars for $50,000 to $100,000, aiming for the lower end of the range.
Toyota said the car will have a range of 300 miles (480 kilometers), can accelerate from standstill to 60 miles (86 kilometers) per hour, and can refuel its hydrogen tank in three to five minutes.
Working with researchers at the University of California, Irvine, Toyota said the first 10,000 vehicles can be supported with only 68 refueling stations from San Francisco to San Diego. It noted that California has approved $200 million to build about 20 fueling stations by 2015, 40 by 2016 and 100 by 2024.
"This infrastructure thing is going to happen," Carter said.
Carter said all the cars in California could be served with just 15 percent of the 10,000 gas stations in the state now if they were spaced correctly. Researchers estimated where likely FCV buyers would need hydrogen stations and planned to put them within six minutes of their home or work.
"We don't need a station on every corner," he said.