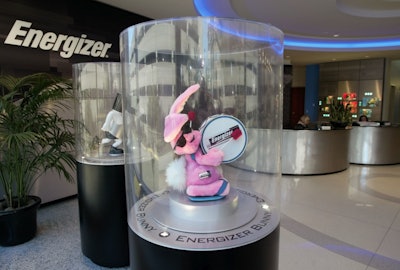 ST. LOUIS (AP) — Energizer Holdings plans to split into two separate and publicly traded companies, one selling batteries and household items, the other selling personal care brands such as Schick razors and Edge shaving gel.
Shares jumped 16 percent in midday trading Wednesday to reach a six-year high.
The St. Louis company believes the split will give each company a clearer focus and let them make a more transparent case to investors.
Reusable batteries have cut into traditional battery sales in recent years, thought the company does have its own line of rechargeable batteries.
The split will be structured as a tax-free spinoff to existing Energizer shareholders, the company said. Energizer did not say what names the companies would operate under.
The household company will sell Energizer and Eveready batteries, flashlights and portable lamps. It accounted for $1.9 billion in revenue in the year that ended March 31.
The personal care company's other brands will include Playtex and Stayfree feminine-care products and Hawaiian Tropic suntan lotion. It had $2.6 billion in revenue in the same period.
"Since becoming an independent company in 2000, Energizer has built two successful divisions and each is now well-suited to realize its full potential on a stand-alone basis," said CEO Ward Klein.
Energizer expects the split to take place in the second half of fiscal 2015, which ends in September 2015.
After the split, Energizer CEO Ward Klein is expected to serve as executive chairman of the personal care company. David Hatfield, current head of the personal care unit, will be CEO of the stand-alone company, Energizer said.
Current Energizer Chairman J. Patrick Mulcahy would be chairman of the stand-alone household products company and that unit's current chief, Alan Hoskins, would be CEO.
Citigroup analyst Wendy Nicholson said the split likely surprised most investors since the company has repeatedly said that it has more value as a single entity. The change in heart at Energizer, which Nicholson rates as a 'buy," will boost company shares, she said.
Shares of Energizer Holdings Inc. rose $15.65 to $113.36, erasing declines in the stock seen throughout this year.
Separately, Energizer reported second-quarter net income for the three months ended March 31 rose 16 percent to $98.5 million, or $1.57 per share. That compares with $84.9 million or $1.35 per share last year. Excluding restructuring and other costs, net income totaled $1.88 per share. Analysts had expected $1.73 per share, according to FactSet.
Revenue fell 3 percent to $1.06 billion from $1.1 billion last year. Analysts expected $1.07 billion.