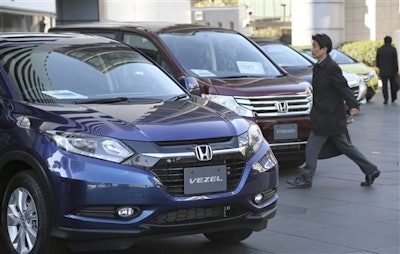 TOKYO (AP) — Honda's quarterly profit doubled from a year earlier as sales got a big perk from a weak yen.
Honda Motor Co. reported on Friday a 160.7 billion yen ($1.58 billion) net profit for the October-December fiscal third quarter, up from 77.4 billion yen the year before.
The maker of the Fit subcompact, Odyssey minivan, and Asimo humanoid, posted a 25 percent jump in quarterly sales to 3.02 trillion yen ($29.6 billion).
A favorable exchange rate helped Honda's fortunes. The dollar has been trading above 100 yen compared with about 80 yen a year earlier. A weak yen helps lift the value of Japanese exporters' overseas revenue.
About 425 billion yen ($4.2 billion) of Honda's sales and other operating revenue was due just to a favorable currency for the quarter.
Honda stuck to its previous forecast for a 580 billion yen ($5.7 billion) profit for the fiscal year through March 31, 2014, up 58 percent from the previous fiscal year, on 12.1 trillion yen ($118.6 billion) sales, up nearly 23 percent.
Tokyo-based Honda, like other Japanese automakers, has bounced back from troubled years, such as the 2011 tsunami and earthquake in northeastern Japan that devastated parts suppliers and disrupted production.
Honda was also hurt by flooding in Thailand in late 2012. Anti-Japanese sentiment that flared up in China eroded sales in that key growth market last year.
Honda said its results were helped by cost cuts and the launch of new models, in addition to the help it got from a weak yen. It sales grew in North America, Japan and the rest of Asia.
During the quarter, Honda sold 1.08 million vehicles around the world, up nearly 10 percent from a year earlier. It also reported an 11 percent jump in motorcycle sales.
It expects to sell nearly 4.39 million vehicles for the fiscal year through March 2014, up 9 percent from 4.01 million in the previous year. Although upbeat, that's lower than its earlier forecast of 4.43 million vehicles, as it expects fewer sales in North America, Asia and Europe.
For the nine months through December 2013, Honda's net profit gained nearly 39 percent to 403.5 billion yen ($4 billion). Nine-month sales soared 23 percent to 8.75 trillion yen ($86 billion).
Toyota Motor Corp., the world's top automaker, reports earnings Tuesday, while Nissan Motor Co. reports Feb. 10.