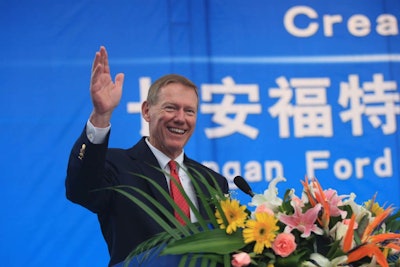 SHANGHAI--Ford China gallops into the Year of the Horse with record January sales, posting 53 percent growth and sales of 94,466 wholesale vehicles, compared to 61,567 in January 2013.
Ford China passenger car sales—which include imported cars—accounted for 72,598 vehicles, a year-on-year sales increase of 63 percent compared to 44,439 sold in January 2013.
With its clever technology, great design, quality, renowned safety features and leading fuel-efficiency, Ford Focus sales continued to lead growth. In January, sales of the Ford Focus nameplate reached 36,385 cars, growing eight percent compared to 33,632 sold during the same period last year. According to data from IHS Automotive, Ford Focus was the top selling nameplate in the passenger vehicle market in China in 2013.
The Ford Mondeo nameplate was also in high demand last month, selling 10,704 cars, up from 7,068 in January 2013, growth of 51 percent.
Changan Ford Automobile (CAF), Ford's passenger car joint venture, sold 70,038 vehicles in January, up 62 percent from 43,269 sold during the same period last year.
Jiangling Motors Corporation (JMC), Ford's commercial vehicle investment in China, also made major strides last month, selling 21,868 vehicles, up 28 percent compared to 17,136 sold in January 2013.