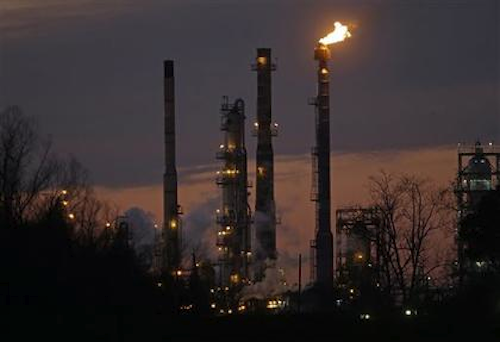 Fire department officials in Torrance, Calif., reportedly plan to endorse the continued use of a potentially dangerous chemical at the city's sprawling oil refinery despite a slew of safety incidents in recent years.
Public radio station KPCC-FM reports that the Torrance Fire Department and Torrance Refinery executives are expected to address a public meeting this week about the use of modified hydrofluoric acid.

The substance, abbreviated as MHF, is used as a catalyst at Torrance and another refinery in nearby Wilmington, but regulators and ExxonMobil warned that a large spill could cause a toxic vapor cloud capable of traveling many miles.

ExxonMobil owned the refinery at the time of a February 2015 explosion that injured four workers and nearly damaged a tank holding a large amount of MHF.
Fire department officials, however, told the station that systems are in place to prevent chemical spills from escaping.
New Jersey-based PBF Energy purchased the plant last summer, but safety concerns at the plant remained. Firefighters and health authorities were dispatched to the refinery Feb. 18 to extinguish another fire.

The meeting comes as regional air quality regulators consider a ban on the chemical. State Rep. Al Muratsuchi, who represents Torrance, recently introduced legislation to halt the use of MHF at refineries.
"This weekend's fire at the refinery, on the two year anniversary of the explosion that rocked our community, is a stark reminder of the work we have to do to make the refinery safer," Muratsuchi said in a statement.