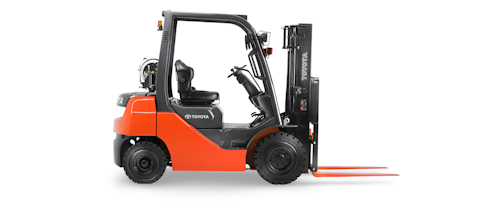 COLUMBUS, IN — Toyota Material Handling, U.S.A. has announced a flood assistance program for Louisiana residents affected by the recent flooding disaster. The assistance program provides rebates and financing assistance and was developed in partnership with Louisiana Toyota Forklift dealer, Scott Equipment.
Toyota Forklifts are eligible for a factory rebate when purchased from Scott Equipment. In addition, Toyota Commercial Finance is assisting customers by offering a special financing rate and deferred monthly payments for Scott Equipment customers. Scott Equipment's Baton Rouge location was affected by flood waters last month when Louisiana's capital city was devastated by flood waters.
The Scott Foundation, a foundation set up by Scott Equipment, is collecting money to distribute funds to their employees in need. Toyota Material Handling, U.S.A, Inc., along with Toyota Industrial Equipment Manufacturing, the Raymond Corporation and Toyota Forklift dealers collected more than $30,000 to donate to The Scott Foundation to support relief efforts.
Also, Toyota Material Handling, U.S.A. is donating an End-Controlled Rider Pallet Jack to the Greater Food Bank of Baton Rouge to support their efforts to get their operations fully functioning to assist those in the Baton Rouge area.
Toyota Material Handling, U.S.A., President Jeff Rufener said, "Toyota is in the business of keeping things moving, so it's important that we do our part to put our neighbors in Louisiana back to work and to help restore some normalcy to their lives. This is a community in trouble, we want to step up and answer the call."
The assistance program can be used for qualifying Toyota Forklift models. The rebates will be applied to equipment purchases made between Aug. 22 and Nov. 30, 2016. Certain conditions apply.  Contact Scott Equipment at 1-855-493-9399 or visit ToyotaForklift.com for full details.