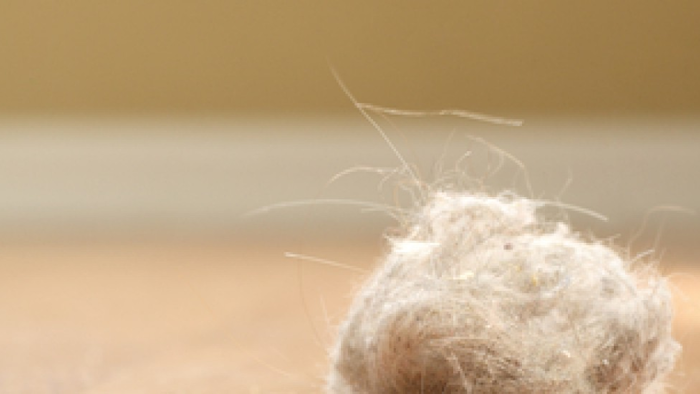 A newly released study suggests that household dust could contain dozens of potentially harmful chemicals that originate in common consumer products and building materials.

The analysis, conducted by researchers from George Washington University, Harvard University, the University of California-San Francisco, the Natural Resources Defense Council and the Silent Spring Institute, examined dust samples from homes in 14 states and reviewed data from 26 peer-reviewed papers and one unpublished analysis.

Their findings, published in the journal Environmental Science & Technology, identified 45 potentially toxic chemicals found in vinyl flooring, cleaning solutions, personal care products and other everyday items.

Researchers said that those products emit chemicals into the air. They then settle in dust, which can be inhaled, ingested or absorbed through skin in small doses. Small children, who frequently crawl on floors and place their hands in their mouths, are particularly vulnerable to household chemical exposure.

"The findings suggest that people, and especially children, are exposed on a daily basis to multiple chemicals in dust that are linked to serious health problems," said lead author Ami Zota of George Washington's Milken Institute of Public Health.

The study said that phthalates were found at the highest levels in the samples. Phthalates are commonly used to increase flexibility in plastics but they are also linked to a variety of health problems; the phthalate DEHP, which studies have tied to reproductive problems, led the list.

Scientists also found elevated levels of phenols and flame retardant chemicals. Ninety percent of dust samples contained 10 harmful chemicals, particularly the carcinogen TDCIPP.
The researchers added that certain chemicals could be interacting with each other in the body in unpredictable — and harmful — ways.
The American Chemisty Council responded to the study by saying it only represents "one side of the story."
"The mere presence of a chemical does not signify risk to human health," ACC said in a statement. "Assessing health risks depends not only on understanding which substances are present in something like dust but also on the actual amount, route, duration and timing of exposure to those substances. Most of this important information is missing in this study."

The study recommended frequent hand washing, avoiding products with the chemicals in question and using "a strong vacuum with a high-efficiency filter" to reduce dust levels.