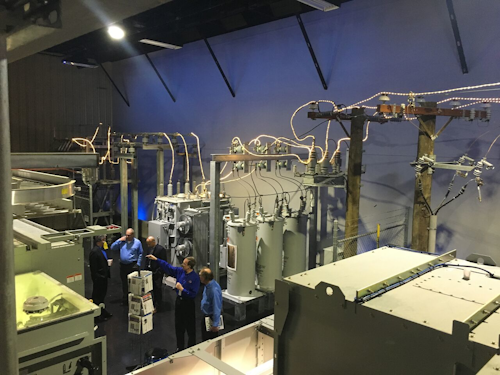 HOUSTON, TX — Power management company Eaton announced its recently expanded Experience Center in Houston, now featuring six new interactive applications for commercial, oil and gas, data center and utility markets. The applications, which include a full-scale downstream petrochemical plant, will supplement the experience center's hands-on safety, application, product and monitoring training opportunities in a true-to-life industrial environment. 
"This expansion gives attendees the opportunity to experience a range of live applications in one setting," said Allan Clark, manager, Houston Experience Center, Eaton. "Each new area provides novel learning opportunities – from supporting data center uptime to advanced training within design and build engineering, plant operations and innovative automated control systems within hazardous environments."
The six interactive application areas at Eaton's Experience Center – Houston include:
Data Center – Attendees will interact with hot isle containment, electrical distribution and state-of-the-art-emergency backup schemes while learning about solutions for maintaining uptime.
Power Quality Lab – With real-time surge events, harmonics and voltage sags, attendees with learn power distribution, surge protection, motor control systems and energy correction capabilities.
Petrochemical Refinery – This full-scale downstream petrochemical plant features complete power distribution, motor protection, process instrumentation and life safety solutions, providing many advanced training opportunities.
Upstream Drilling & Production Rig – The upstream rig application supports operations and engineering for offshore platforms, helping attendees understand weight savings solutions, power distribution technologies and process management through international installation practices.
Land-based Drilling – Featuring variable frequency drives and automated control systems, the drilling unit highlights energy-cutting advances and sustainable procurement of natural resources.
Utility & Power Distribution – Step through smart grid power distribution technology and medium voltage switchgear to learn about energy regulations and smart grid technology.
Eaton celebrated the expanded Experience Center by hosting an open house at the facility on March 23-24, 2016. The event featured live demonstrations from each of the application areas, as well as facility tours and continuing education unit (CEU) qualifying presentations. Engineering software company AVEVA also unveiled a new digital walk-through of the experience center, which made it possible for visitors to interact with each area in a virtual, three-dimensional environment.
The Experience Center's 14,000-square foot simulated petrochemical refinery and power distribution grid features more than 8,000 products installed in applications from upstream to midstream to downstream. The interactive environment is divided into process and containment areas that allow visitors to experience a wide range of oil and gas training opportunities for hazardous and non-hazardous applications. The facility's mock refinery gives visitors access to live demonstrations of difficult-to-reach oil and gas applications both offshore and land-based.