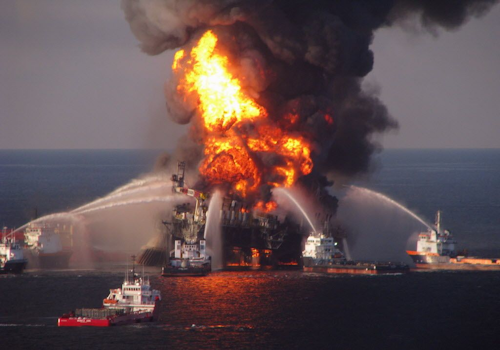 A federal trial involving a supervisor on BP's doomed Deepwater Horizon offshore oil rig began this week.
Prosecutors argued during opening statements that day supervisor Robert Kaluza ignored tests that showed unusual upward pressure prior to the April 2010 blast, the Associated Press reports.
The explosion killed 11 workers and the resulting leak became the worst offshore spill in U.S. history after pouring 134 million gallons of oil into the Gulf of Mexico over nearly three months.
Kaluza is charged with one misdemeanor count of violating the Clean Water Act. Prosecutor Jennifer Saulino said that although he wasn't solely responsible for the blast, "evidence will show that he was one of the reasons."
Kaluza's attorney countered that he was working on the rig as a four-day replacement for another supervisor that left to renew his credentials.
Shaun Clarke added that his client simply left the decision about how to proceed to the more experienced Donald Vidrine, the rig's night supervisor. Vidrine previously pleaded guilty to the same charge and will testify against Kaluza.
Clarke also argued that BP and Transocean Ltd. — the owner of the rig — postponed required maintenance on blowout prevention equipment for years.
The case is expected to go to the jury on March 4. If convicted, Kaluza could face up to one year in prison.