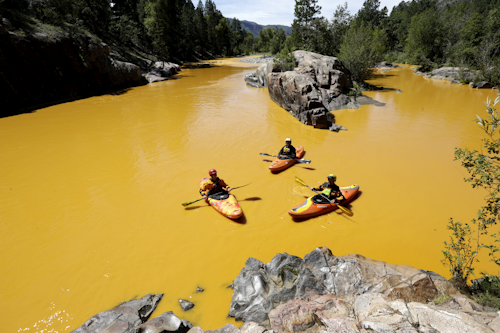 Federal environmental authorities believe that an August wastewater spill in Colorado ultimately sent more than 880,000 pounds of metals into a nearby river.
But the draft analysis released Friday by the Environmental Protection Agency also suggested that metals released by the spill from Gold King Mine equated to one day of runoff from melting snow near the mine.
Cleanup workers led by the EPA were working at the inactive mine in southwestern Colorado on Aug. 5 when they inadvertently triggered a spill totaling 3 million gallons of toxic wastewater.
The incident sparked a deluge of criticism of the agency by lawmakers, particularly by Republicans already opposed to the Obama administration's environmental policies.
The Interior Department found that the EPA failed to check water levels in the mine before beginning preliminary cleanup work, but said that the agency's actions were not criminal.
The draft report said that the metals primarily moved from the mine to Cement Creek and then to the Animas River. Most of the metal settled underneath the Animas before it reached the San Juan River in northeastern New Mexico.
The report did not address claims that some of the discharged metals reached Utah, where the San Juan joins the Colorado River.
Previous tests showed that the wastewater contained arsenic and lead. Investigators were also reportedly looking for cadmium, copper, mercury, nickel and zinc.
Despite the spill turning rivers an unsightly shade of yellow and contaminating drinking water, officials said that the rivers returned to normal levels of those contaminants shortly after the spill.
The EPA hopes to designate the area near Silverton, Colorado as a Superfund site in order to fund a long-term cleanup of the mine. Gold King is one of thousands of mines in western states that could pose similar spill risks.