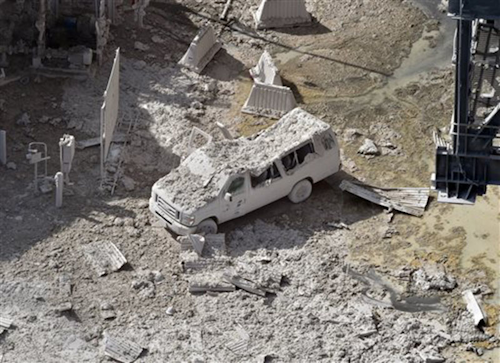 REDONDO BEACH, Calif. (AP) — The latest on the federal investigation of a refinery blast in California (all times local):
___
11:15 a.m.
Federal investigators say an 80,000-pound piece of equipment shaken loose by a refinery explosion landed within a few feet of a tank holding tens of thousands of pounds of a toxic acid.
Mark Wingard, an investigator with the U.S. Chemical Safety and Hazard Investigation Board, said Wednesday the Feb. 18, 2015, explosion at the ExxonMobil refinery in California also damaged a laser sensor designed to detect the release of the acid and clouded surveillance cameras.
The board's chairwoman, Vanessa Allen Sutherland, says the modified hydrofluoric acid in question could have caused significant injuries if released.
Officials say ExxonMobil has not responded to more than half of the board's requests for information related to the refinery blast -- specifically those related to acid.
Sutherland says her group is working with Department of Justice to enforce subpoenas.
___
10:15 a.m.
An independent federal investigation has found that several oversights contributed to an explosion at a California oil refinery that injured four contractors and rained white ash on surrounding homes.
The U.S. Chemical Safety and Hazard Investigation Board said Wednesday that a key unit had operated for five years without a maintenance overhaul.
The board also says managers at the ExxonMobil refinery used an outdated plan when they decided to shut down the fluid catalytic cracking unit, or FCC unit, to do repairs and had no safeguards to prevent combustible materials from reaching an ignition source in another unit.
California workplace regulators fined Exxon $566,000 last summer for health and safety violations related to the blast. Exxon is appealing.
Exxon spokesman Todd Spitler says an internal investigation found no wrongdoing.