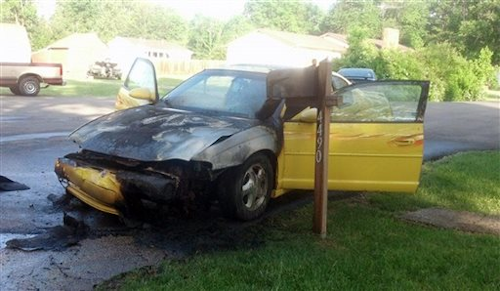 General Motors is advising owners of about 1.4 million older cars to park outside while the company works to address a potential fire hazard.
The Associated Press reports that GM recently notified dealerships that the automaker would replace the front valve-cover and gasket under the terms of recalls announced earlier in the year.
The company initially recalled vehicles in 2008 and 2009 following the discovery that hard braking could cause oil to seep through gaskets and start fires if it dripped onto the exhaust manifold.
Those repairs, however, left a small flame that was intended to burn itself out. Reports indicated that since the earlier recalls, 1,345 fires were reported, resulting in 17 structure fires and 19 minor injuries.
The affected vehicles are in model years 1997 through 2004 and equipped with 3.8-liter V6 engines. They include the Buick Regal, Chevrolet Impala, Chevrolet Lumina, Chevrolet Monte Carlo, Oldsmobile Intrigue and Pontiac Grand Prix.
Owners will receive a letter about the repairs next week, but parts needed to replace the affected components are not yet ready.
The cars are safe to drive, but GM recommended that owners park outside to avoid further structural fires while awaiting repairs. They will receive another letter to schedule an appointment when the parts are in.
The recall repairs will also replace plastic engine covers and oil-fill tube extensions, according to the AP report.