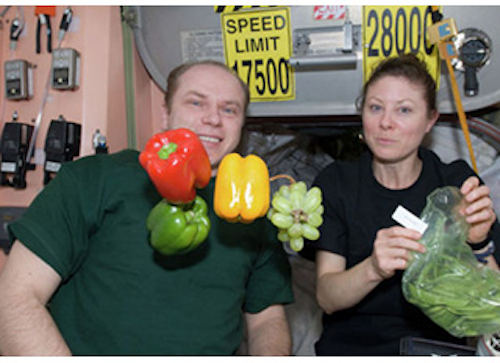 As hungry consumers that are constantly being offered new food products, I think it's easy for Americans to take food for granted.
Let's be honest for a moment: when you are scarfing down that sandwich and bag of chips during your 20 minute lunch, you probably aren't thinking "Wow, I am so thankful for this meal."
But for the astronauts aboard the International Space System (ISS), today's introduction of a very special meal will likely be graciously accepted.
Today, astronauts will bite into the first food to be grown on the ISS — vegetables.
While a greenhouse called Lada has been aboard the space station since 2002, astronauts have not been able to eat the science experiments until now.
The purpose of Lada was to study the plant growth in microgravity over the course of many years. And today, when astronauts bite into the romaine lettuce, the crew will finally get to see how their experiments turned out.
The red romaine lettuce was planted on July 8 and harvested 33 days later after a consistent watering schedule. The greenhouse project was much more complicated than just planting and growing the seeds, though.
Check out the video below to learn more about this exciting experiment:
And now that space plants have been given the go-ahead from NASA, astronauts just need to make sure to wipe down the food with sanitizing wipes. Here's to hoping they enjoy their space veggies!