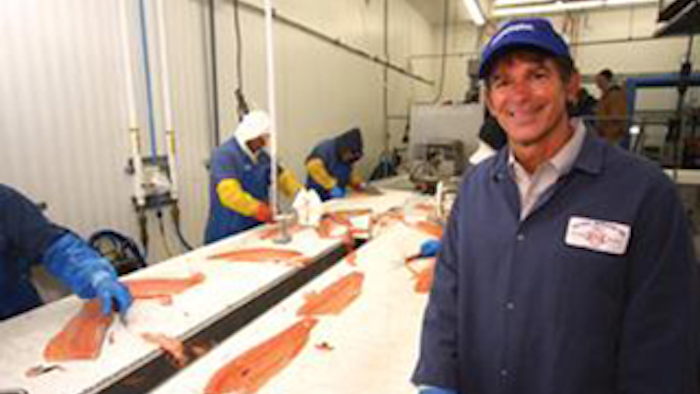 ASTORIA, Ore. (AP) — Some commercial fishermen have won a temporary court order blocking Pacific Seafood Group from taking over Westport, Washington-based Ocean Gold Seafoods.
The fishermen fear the acquisition would give Pacific Seafood monopoly power in the market for groundfish, whiting and cold-water shrimp. Moreover, the complaint says there is a strong likelihood that Pacific Seafood will not rebuild a fish processing plant in Warrenton, Oregon, if it acquires a controlling interest in Ocean Gold, which is among the largest seafood processors on the West Coast.
Pacific Seafood has been leasing space from the Port of Astoria at Tongue Point since the Warrenton plant burned down in 2013.
A federal judge in Medford, Oregon, granted the temporary restraining order Friday and set a hearing for Feb. 9 on the antitrust lawsuit.
Commercial fishermen previously filed a class-action lawsuit against Pacific Seafood that made similar allegations of monopoly business practices. A 2012 settlement included a provision that Pacific Seafood would not extend an exclusive marketing agreement with Ocean Gold beyond February 2016.
The general counsel for Pacific Seafood, Daniel Occhipinti, calls the lawsuit a "frivolous retread" of the previous suit. Occhipinti dismissed the suggestion that Pacific Seafood might not rebuild in Warrenton.
"We are as committed to rebuilding in Warrenton today as we were the day after the tragic fire," he told The Daily Astorian newspaper. "It's a complicated process and it's taking much longer than we would like. But we are committed."
Pacific Seafood, based in Clackamas, Oregon, is a dominant fish processor and distributor. It also has a fleet of 13 fishing boats. Along with the exclusive marketing agreement with Ocean Gold, Frank Dulcich, Pacific Seafood's president and chief executive officer, holds significant stock in the company.
The fishermen claim that Pacific Seafood's dominance has caused a lack of competition that has led to price suppression.
"It will be of significant benefit to the competitive health of the West Coast fishing industry if (Ocean Gold) can be an independent competitor rather than under the control of Pacific Seafood through either an exclusive marketing agreement or by Pacific Seafood Group acquiring it," said Michael Haglund, a lawyer representing the fishermen.