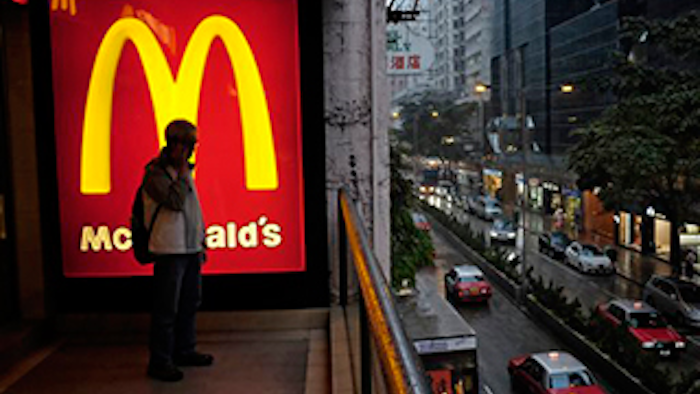 NEW YORK (AP) — McDonald's says global sales declined in February, including a 4 percent drop in the U.S., where it is fighting to hold onto customers and reinvigorate its image.
The world's biggest hamburger chain has been struggling with disappointing sales amid shifting tastes and intensifying competition, including places that position themselves as more wholesome alternatives.
In a statement Monday, McDonald's conceded "consumer needs and preferences have changed" and that its recent performance shows it needs to adapt.
In the U.S., McDonald's blamed the sales decline in February on "ongoing aggressive competitive activity." But it noted it held a "Turnaround Summit" for franchisees last week, which it said was designed to "deliver renewed energy and focus" around the restaurant experience.
The company's summit in Las Vegas coincided with former chief brand officer Steve Easterbrook's start in his new role as CEO. McDonald's had announced that Easterbrook would replace Don Thompson in January, after customer visits in the U.S. and other parts of the world declined last year.
In the division including Asia, the Middle East and Africa, McDonald's said sales fell 4.4 percent in February. The company's reputation has suffered in Japan, where customers have reported finding various objects in their food. In China, the company is trying to recover over a foodquality scandal involving a major supplier.
Sales edged up 0.7 percent in Europe for the month.
Overall, McDonald's says global sales fell 1.7 percent at established locations in February when including other regions the company doesn't break out.
McDonald's, based in Oak Brook, Illinois, has more than 36,000 locations around the world. Its shares slipped about 1 percent to $96.19 in premarket trading.