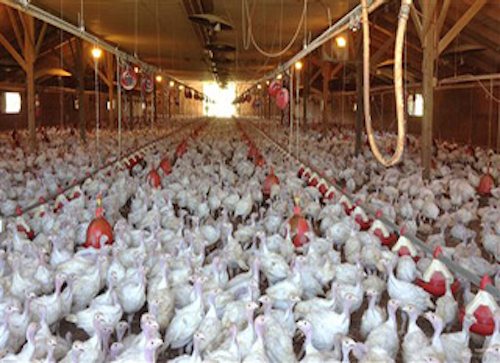 DES MOINES, Iowa (AP) — Some international trade partners are declining to buy egg and poultry products from Midwestern states that have been affected by a deadly strain of bird flu, while others are excluding imports only from counties where the virus has surfaced.
The H5N2 virus has cost turkey and chicken producers over 7 million birds since early March. Federal agriculture officials say the food supply is safe.
A few countries — including China, Russia, South Korea and Thailand — have shut off all imports of poultry products from the United States. Mexico, Japan and Canada are among 33 countries declining to accept poultry products from entire states, including Iowa, the nation's leading egg producer, and Minnesota, the top turkey grower in the U.S.
Other countries, including Hong Kong, limit the ban to counties where the virus has been confirmed. Some countries — including Honduras, Kazakhstan and Qatar — require products to be heated to a temperature that will kill the virus before they'll accept poultry products.
"We'd like to see those countries that are restricting on a statewide basis go down to a county level," said Jim Sumner, president of the U.S. Poultry & Egg Association. He said Thursday that 110 countries continue trade with the U.S. with no restrictions, and it's likely that once the flu is isolated without spreading further for at least a month, some of the trade bans may relax.
The exports of poultry products have been growing. For example, the United States exported 42.5 million dozen shell eggs in 2014, up from nearly 16 million in 2012 and 38.8 million dozen eggs as processed egg products, up from 15 million just two years earlier.
U.S. Department of Agriculture spokeswoman Joelle Hayden said the agency is working with the poultry industry, trade associations and others to mitigate the impact on exports.
"We are actively engaging with most of these countries to reduce these restrictions," she said.
Agricultural states are fighting to contain the virus. Minnesota Gov. Mark Dayton declared a state of emergency Thursday to fight the H5N2 strain, a similar action taken earlier by Wisconsin.