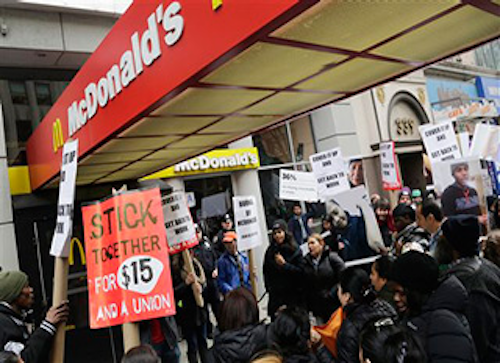 NEW YORK (AP) — Labor organizers are opening a new front in their campaign for a $15-an-hour wage for fast-food workers by aiming to mobilize an unusual ally: franchisees.
The Service Employees International Union plans to announce Thursday that it is launching a website in hopes of building a national network of fast-food franchisees who want stronger protections for their businesses. The push has the potential to create more unrest within the ranks for companies like McDonald's, which are already dealing with ongoing demonstrations calling for higher pay and a union for workers.
McDonald's Corp. has more than 3,000 franchisees in the U.S. who run about 90 percent of its more than 14,300 locations. A representative for McDonald's did not immediately respond to a request for comment.
The International Franchise Association, which represents franchisors like McDonald's, Subway and Wendy's, said in a statement that franchisees indicate "incredibly high satisfaction rates." It noted that data from the Federal Trade Commission shows franchisees renew their contracts at "an extremely high rate."
Support from the SEIU, the nation's second-largest union, could give franchisee advocates more clout in their push to change what they say is an imbalance of power in their relationship with companies. Franchisee advocates say they're at the mercy of companies that can terminate their agreements and strip them of their livelihoods.
Still, the push by the SEIU marks an uneasy alliance, since franchisees are often small-business owners who oppose unions.
"It's an odd relationship, let's face it," said Keith Miller, a Subway franchisee in northern California and head of the Coalition of Franchisee Associations, which is working with the SEIU on the effort.
The outreach to franchisees is just the latest move in a campaign to win pay of $15 an hour and a union for fast-food workers. The effort began in late 2012 and involves a range of tactics intended to build pressure on McDonald's, including demonstrations in a growing number of cities and multiple lawsuits on behalf of workers in the U.S. and abroad.
The SEIU is also trying to upend the position by McDonald's Corp. that the company is not responsible for employment decisions at franchised locations.
The National Labor Relations Board's general counsel said last year that McDonald's could be named as a "joint employer," in charges filed by worker groups over alleged labor violations. The hearing on the case began last month and is expected to be a lengthy legal battle.