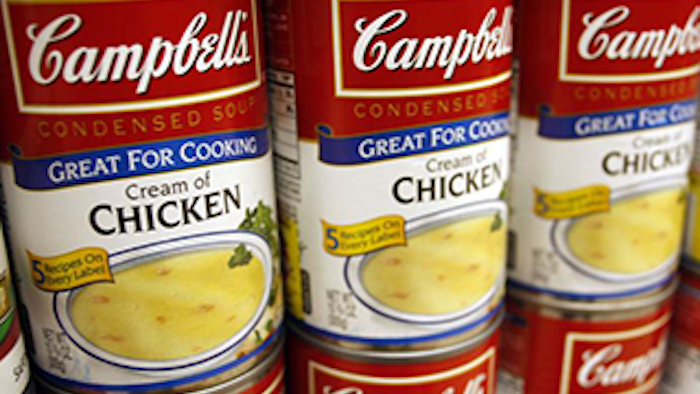 NEW YORK (AP) — Campbell Soup's cost-cutting plan is paying off faster than it expected. The soup maker raised its profit forecast for 2015 Wednesday and its shares rose more than 2 percent amid a broad market sell-off.
The company expects $75 million in savings in the fiscal year ending in August and $250 million in annual savings, it said Wednesday. When it announced a plan to cut $200 million in annual spending in February, the company didn't expect to book any savings in the current fiscal year.
Based on those savings and solid gross margins, Campbell Soup Co. now expects to report annual net income of $2.43 to $2.46 per share. The company had expected a profit of $2.32 to $2.38 per share and said in May that it would reach the high end of that estimate.
Analysts were projecting a profit of $2.38 per share, according to FactSet. Shares of Campbell Soup gained $1.17 to $48.63.
Campbell Soup is aiming for long-term sales growth of 1 percent to 3 percent per year, down from 3 percent to 4 percent growth.
The company said the lower estimate is based on "the current conditions in the food industry."
Sales of products like canned soups have fallen as shoppers opt for options that seem fresher, hurting sales of key products for Campbell Soup and its competitors. In the last few years the company bought Bolthouse Farms juices, Plum Organics baby food and salsa, hummus and dip maker Garden Fresh Gourmet, an acquisition that closed last month.
As of Tuesday's close, shares of the Camden, New Jersey, company had risen 7.5 percent over the last year. On June 30 the stock rose to $49.16, its highest price since December 1998.