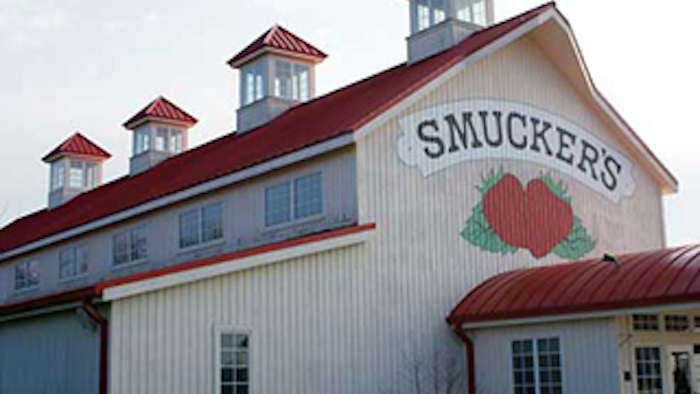 ORRVILLE, Ohio (AP) — J.M. Smucker Co. posted strong fiscal first-quarter results Thursday, thanks to its new Dunkin' Donuts coffee pods and its recently-acquired pet food business.
The food seller's shares jumped more than 7 percent in morning trading.
Smucker, known for its fruit spreads, began selling Dunkin' Donuts coffee pods for Keurig coffee machines during the quarter. The company said a 12 percent sales spike in its coffee business versus a year ago was due to the new pods.
Smucker said its more than $3 billion acquisition of Big Heart Pet Brands in March added $561.3 million in revenue during the quarter. Big Heart's brands include Meow Mix, Milk-Bone, Kibbles 'n Bits and Pup-Peroni.
The Orrville, Ohio-based company reported fiscal first-quarter net income of $136.4 million, or $1.14 per share. Earnings, adjusted for non-recurring costs, amounted to $1.32 per share, exceeding Wall Street expectations. The average estimate of eight analysts surveyed by Zacks Investment Research was for earnings of $1.22 per share.
It reported revenue of $1.95 billion in the period, also topping Street forecasts. Five analysts surveyed by Zacks expected $1.89 billion.
Smucker expects full-year earnings in the range of $5.65 to $5.80 per share, with revenue expected to be $8 billion. Analysts expected earnings of $5.75 per share and revenue of $7.92 billion, according to a survey by Fact Set.
Shares of Smucker rose $7.43, or 6.8 percent, to $116.58 in morning trading Thursday.