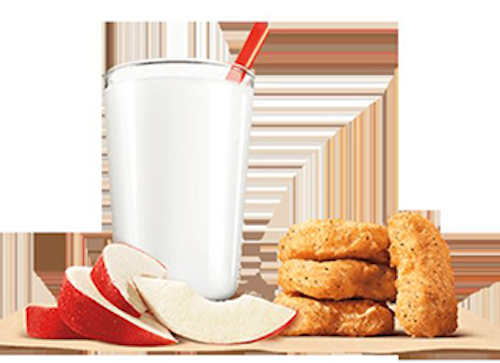 If your kids enjoy an ice-cold soda with their meal, than you may want to steer clear of Burger King.
The fast-food chain has decided to eliminate fountain drinks from its kids' menu boards and they will no longer be part of the Burger King Kids Meals.
The burger giant has joined a growing number of fast-food restaurants trying to reduce the unhealthy options on their menus by removing its sugar-laden soft drinks from its kids' menu.
In a statement to USA Today, Burger King said they silently removed soft drinks from the kids' menu last month "as a part of our ongoing effort to offer our guests options that match their lifestyle needs," said Alex Macedo, president of Burger King North America.
Now, instead of Coca-Cola and Sprite, the chain now displays milk and 100% apple juice as options for the younger patrons.
Both McDonald's and Wendy's have recently brought on healthier options to its menu, with McDonald's announcing just last week that it will no longer serve chicken containing human antibiotics. Also last week, Dunkin' Donuts agreed to phase out a whitening agent used in the sugar topping on its powdered donuts.
While soft drinks will still be an option on the regular menu, over time the soda menu change could impact future beverage industry sales since many consumers develop their beverage consumption habits as children. 
USA Today reports that the consumer advocacy group Center for Science in the Public Interest has been leading the pressure for the change.
"It will help children eat better now, as soda is the leading source of calories in children's diets," Margo Wootan, director of nutrition policy for the group, said. "It also helps to set kids on a path toward healthier eating in the future, with fewer kids becoming conditioned to think that soda should be a part of every eating out occassion."
Macedo said Burger King didn't want to immediately announce the change because it wanted to give restaurants the chance to make the change.