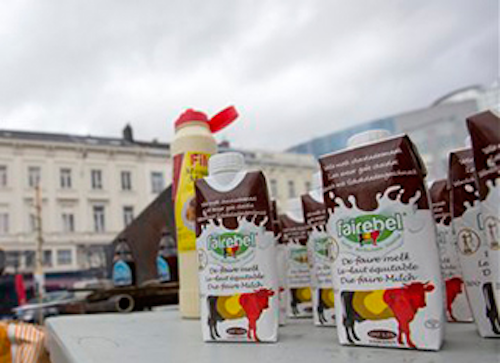 BRUSSELS (AP) — Dairy farmers hit the streets of Brussels Tuesday to protest the lifting of European Union milk quotas, fearing that the move will flood the market with cheap surplus milk.
"With quotas being lifted, we're really scared that production is going to explode and we won't be able to pay our costs anymore," said Belgian milk farmer Yvan Deknudt after driving his tractor some 30 kilometers (19 miles) to a rally at the European Parliament.
The quota system which kept a lid on production will be scrapped on Wednesday, more than 30 years after it was introduced to try to halt massive overproduction that had resulted in so-called milk lakes and butter mountains in the EU.
The system is ending to allow European producers to compete with U.S. and Australian farmers targeting the burgeoning markets of countries like China and Korea.
The move is hardly a surprise. It was announced long ago, in 2003, and quota levels have been raised progressively over the last seven years to get farmers used to producing more milk.
But for small farmers like Deknudt, 54, that extra produce has already driven the wholesale price of milk down, some 30 percent lower now than the minimum he needs to break even.
"My son has given up on the idea of producing milk. We have a great farm. It's a shame for it to go to waste," said Deknudt, who is one of a group of around 50 farmers from 16 countries taking part in the demonstration.
Though quotas were criticized, they did provide some price stability. The big fear for small farmers is that production will no longer be based on the amount of milk being consumed.
That, they say, will only benefit big food companies like Nestle, Danone and Campina, and could lead to milk being dumped abroad.
"It serves no purpose to raise production and dump milk on other countries, as is the case in Africa today, which is destroying smaller producers both in Africa and in Europe," said European Milk Board spokesman Erwin Schoepges.