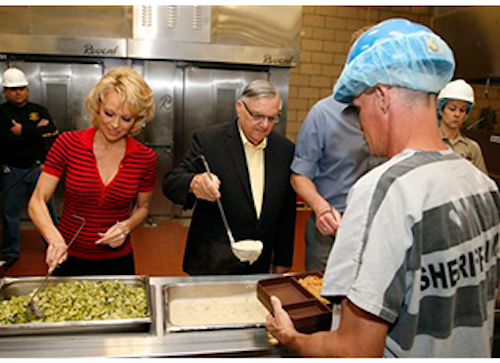 Inmates at a Phoenix jail were surprised to see actress Pamela Anderson serving up their lunches.
The former "Baywatch" star and animal rights activist turned up at the Maricopa County jail on Wednesday to show support for the jail's vegetarian meal initiative.
Sheriff Joe Arpaio's  all-vegetarian meal program cuts meat from the meals served to the more than 8,000 inmates and has reportedly saved approximately $200,000 per year. The initiative began about 16 months ago.
As a spokesperson for the animal rights group People for the Ethical Treatment of Animals (PETA), Anderson said she was very impressed with what she saw.
"I think it's very helpful and encouraging to give people the chance to eat compassionately and make non-violent choices when it comes to their eating habits," Anderson said.
But the group came under fire for its association with Arpaio, who is known by many to be America's "toughest sheriff" and has long faced criticism of racially profiling Latinos.
Anderson, though, hopes the vegetarian program stands as a model for prisons and jails across the country.
Actress Pamela Anderson, left, joins Maricopa County Sheriff Joe Arpaio, middle, as they serve an all-vegetarian meal to an inmate, right, at the Maricopa County Jail, making it the first jail in the country to go entire vegetarian, Wednesday, April 15, 2015, in Phoenix. Anderson, a PETA honorary director and long-time vegan, also toured Tent City after serving meals to the inmates. (AP Photo/Ross D. Franklin)