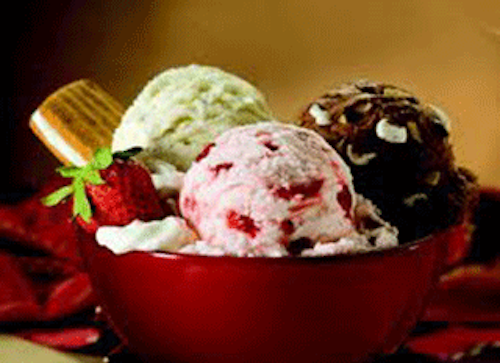 WASHINGTON (AP) — Is ice cream safe to eat? Federal officials say yes, even amid recalls by two ice cream companies after the discovery of listeria bacteria in their frozen confections.
The Food and Drug Administration and the Centers for Disease Control and Prevention say there's no reason to think that listeria illnesses and deaths linked to Texas-based Blue Bell Creameries and the discovery of listeria in a sample of Ohio-based Jeni's Splendid Ice Creams are related.
"Based upon what we know now, there is no connection between these two ice cream companies nor any reason to suspect that ice cream as a whole poses any special foodborne disease risk," said CDC's Dr. Robert Tauxe.
Still, Tauxe said the discovery of listeria is a "wake-up call" for the industry, since the bacteria isn't very common in ice cream. While the hardy bacteria thrive in cooler environments, they can't grow at freezing temperatures.
At least one other major ice cream manufacturer, Unilever, appeared confident, saying in a statement that the company has "robust quality and safety protocols across our ice cream network designed to prevent listeria contamination." Unilever owns Ben & Jerry's, Breyer's and other ice cream brands.
The FDA said consumers should feel safe eating any products that haven't been recalled.
"Despite these recalls, it is important to understand that ice cream in the United States is generally safe," said the FDA's Jeff Ventura. "These recalls are an example of companies taking appropriate action by getting potentially unsafe foods off the market."
The FDA is investigating the Blue Bell outbreak but hasn't said what caused it. On Thursday, Blue Bell said its plants in Texas, Oklahoma and Alabama are undergoing intensive cleaning.
John Lowe, Jeni's CEO, said in a statement on the company's website that it is working with its suppliers to determine if the listeria was introduced by one of the ingredients the company uses. "We will not reopen the kitchen until we can ensure the safety of our customers," Lowe said in the statement.
Listeria illnesses generally only affect the elderly, people with compromised immune systems and pregnant women. The bacteria is found in soil and water, and it can be tracked into a manufacturing facility, carried by animals or spread by employees not using proper sanitation practices.
Sandra Eskin, director of food safety for the Pew Charitable Trusts, says she believes the U.S. ice cream supply is safe but says the outbreak linked to Blue Bell shows the need for more testing for foodborne bacteria in manufacturing facilities. President Barack Obama signed a sweeping new food safety law in 2011 that would boost some of that testing, but the FDA hasn't yet put all of the rules in place.
"It's frustrating that people have to get sick while we wait for the process to play out," Eskin said.
At the same time, the recalls may be evidence that testing has increased.
The Nebraska Department of Agriculture discovered the listeria in a random sample of Jeni's ice cream as part of a program to test ready-to-eat products for foodborne illness. South Carolina health officials discovered listeria in Blue Bell products as part of a random sampling program focused on frozen desserts.
Former FDA assistant commissioner David Acheson, now a consultant to food manufacturers, says ice cream companies will boost listeria testing as a result of the recalls.
"We just have to cross our fingers there won't be a whole lot more recalls," Acheson said. "When you start to look, you find."