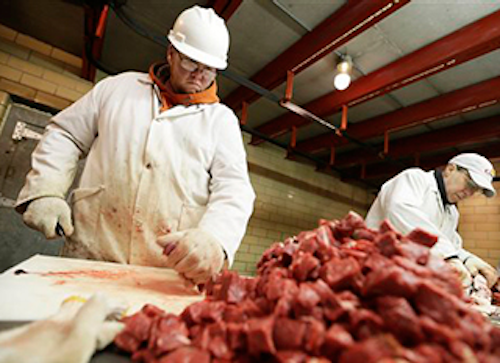 Warmer temperatures means grilling season is back! But instead of heading over to your local grocery store, you can now pick up some fresh cuts at the Minnesota correctional facility.
Inmates at Northeast Regional Corrections Center in Saginaw, Minnesota might soon be able to earn their butcher's licenses while behind bars.
Sen. David Tomassoni introduced a measure at the Minnesota Capitol on Monday that is meant to address the shortage of butchers in the state, while also allowing inmates an opportunity toward employment.
The Associated Press reported that inmates at the correctional facility, which is a 150-bed minimum security institution that offers vocational training along with education and treatment programs, are already processing and selling meat.
But now, Sen. Tomassoni wants to turn the institution's work into a pilot program that gives inmates a license. 
Demand for locally produced beef is surging as never before, but butchers who have for generations been preparing and selling meat to customers and markets are a dwindling profession, according to a recent story.
An analysis in Minnesota showed about two-thirds of the people who own a small meat-processing business in the state are nearing retirement age, with no succession plan.
Tomassoni calls the proposal "a little tool" to give inmates a shot at a new career, all while addressing the shortage of butchers.