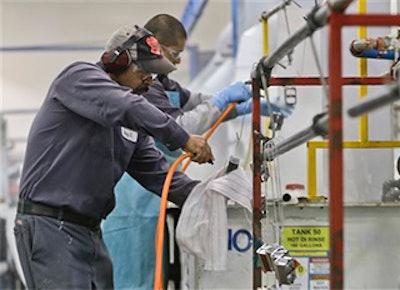 Top manufacturing executives tempered their optimism about the U.S. economy in the latest quarterly survey from PwC.

Overall, 69 percent of respondents to the second quarter PwC Manufacturing Barometer were optimistic about the U.S. economy during the next 12 months.

Read more: Top manufacturing technology trends for 2015 and beyond.

Although the firm characterized that level as "still healthy" and noted an increase compared to the second quarter of 2014, optimism declined from a nine-year high of 76 percent in the first quarter survey.

In addition, confidence about the global economy fell from 42 percent in the previous survey to 38 percent in the second quarter.

Executives' anticipated revenue growth over the next year declined from 5.1 percent in the first quarter to 4.9 percent, and plans for additional operational spending fell from a two-year high of 83 percent down to 75 percent in the latest survey.

Expectations for new spending fell in each category outlined by PwC, including new products or services, research and development, information technology and capital investments. Interest in mergers and acquisitions also fell compared to the first quarter.

PwC U.S. industrial manufacturing leader Bobby Bono said that the overall economic outlook remained positive, but that slower economic growth, the strong dollar and economic issues in China and Europe likely complicated respondents' plans.

"While these spending decreases are notable, we believe they reflect more of a pause in sentiment, as management teams evaluate strategies to adjust to evolving market conditions," Bono said.

In addition to the strong dollar, executives identified a lack of demand and legislative and regulatory pressures as the top economic headwinds. Concerns over a lack of qualified workers fell to their lowest level — 24 percent — in six quarters, which PwC speculated could result from slower growth softening labor demands.

Bono said that the talent gap in manufacturing "remains a long-term challenge across the sector."

The PwC survey conducted interviews with 59 senior executives of large, multinational U.S. industrial manufacturing companies between March 23 and June 24.