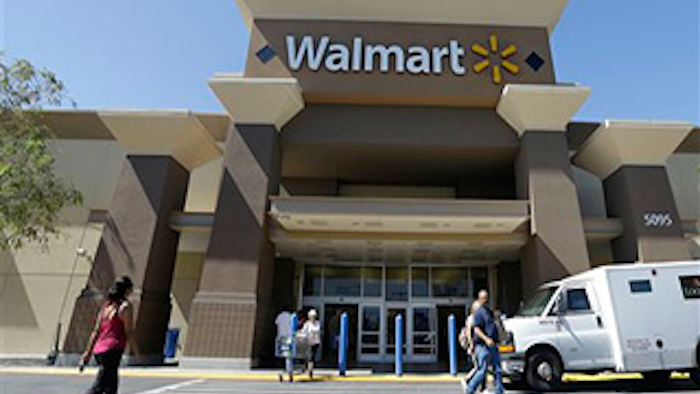 NEW YORK (AP) — Wal-Mart is expanding its offering of protein bars like Special K and Clif beyond the health food areas to the main grocery aisles of some of its stores, starting in January.
The move comes as the world's largest retailer, like many other rivals, is going on a health kick aimed at its customers. Target Corp. announced last month that it was pushing granola bars and health grab-and-go snacks over candy at the checkout aisles in 30 of its stores. And CVS is also adding more fresh foods and health snacks at many of its locations while moving bagged candy out of prime store space in the first aisle.
Wal-Mart Stores Inc., based in Bentonville, Arkansas, also said Tuesday that it will be offering free blood glucose, blood pressure, and vision screening at all of its 4,400 stores on Saturday. The discounter will also be offering immunizations for a fee in select stores. That's double from its first health fair last year when the event was held in 2,200 stores.
Over the past year, Wal-Mart has been expanding its preventative and wellness products like specialty prescriptions.
"Customer behavior is changing," said Michelle Gloeckler, executive vice president of consumables and health and wellness at Wal-Mart's U.S. division. "Customers are taking an active role in their health."
For the second year in a row, Wal-Mart will be working with DirectHealth.com, an online health insurance comparison site and agency, to allow shoppers to compare coverage options and enroll in Medicare plans or public exchange plans created under the Affordable Care Act. Customers can enroll online or by phone or at more than 2,400 stores, from Oct. 15 through Jan. 31. New this year, DirectHealth is working with Jackson Hewitt to staff licensed insurance agents in about 250 stores. These agents will help navigate shoppers with more than 70,000 Health Exchange plans available to them as well as help customers older than 65 enroll for Medicare.
The moves also could help drive more shoppers to its stores at a time when Wal-Mart is starting to see sales perk up at its Wal-Mart U.S. business, which accounts for 60 percent of its total sales. The company has posted its fourth straight quarter of increases for an important sales measure and its third straight increase in customer counts for its Wal-Mart stores in the U.S. But the retailer cut its annual profit outlook in August as it grapples with costs to make its stores more clean and friendly.
Meanwhile, Wal-Mart next month is slated to open its 18th health care clinic run by the retailer itself that offers primary care such as health screenings, and management of chronic conditions like diabetes. That's different from its leased health care clinics in its stores that focus on basic services like flu shots.