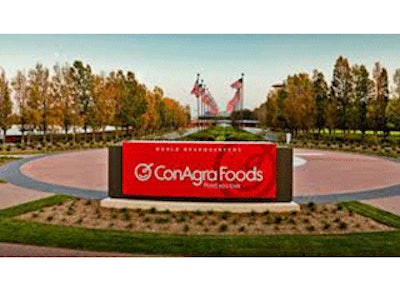 OMAHA, Neb. (AP) — ConAgra Foods Inc. on Tuesday reported a loss of $1.24 billion in its fiscal first quarter.
On a per-share basis, the Omaha, Nebraska-based company said it had a loss of $2.85. Earnings, adjusted to account for discontinued operations and non-recurring costs, came to 45 cents per share.
The results beat Wall Street expectations. The average estimate of six analysts surveyed by Zacks Investment Research was for earnings of 39 cents per share.
The maker of Chef Boyardee, Hebrew National hot dogs and other packaged foods posted revenue of $2.79 billion in the period, missing Street forecasts. Three analysts surveyed by Zacks expected $3.69 billion.
ConAgra shares have risen 17 percent since the beginning of the year, while the Standard & Poor's 500 index has dropped 4.5 percent. The stock has climbed 26 percent in the last 12 months.