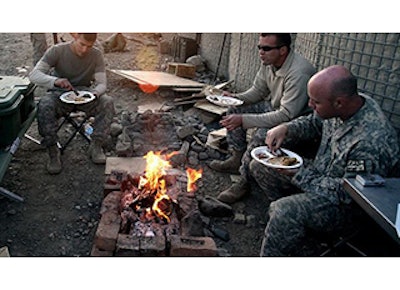 PHILADELPHIA (AP) — Two foreign companies have pleaded guilty to fraud and conspiracy for overcharging the U.S. military in connection with a contract to provide food and water to troops in Afghanistan.
The case involves Supreme Group B.V., a privately held Dutch corporation, and its subsidiaries, Supreme Foodservice GmbH of Switzerland and Supreme Foodservice FZE of United Arab Emirates. The companies agreed to pay $288 million in fines and restitution, plus $101 million to resolve a whistleblower suit.
"Supreme Group accepts full responsibility for, and deeply regrets our actions that led to this situation," Emma Sharma, a Supreme Group attorney and ethics officer, said in a video statement on the company's website.
She said the company has hired new senior management and installed new controls "to ensure that this conduct was never repeated."
The privately held firms fraudulently inflated the price of fresh fruits and vegetables, bottled water and other products as part of its contract with the Defense Supply Center of Philadelphia, now called the Defense Logistics Agency, according to court documents.
The government was overcharged by $48 million between 2005 and 2009, the documents said.
"These companies chose to commit their fraud in connection with a contract to supply food and water to our nation's fighting men and women serving in the desert," said U.S. Attorney Zane Memeger, who announced the plea Monday. "That kind of conduct is repugnant, and we will use every available resource to punish such illegal war profiteering."