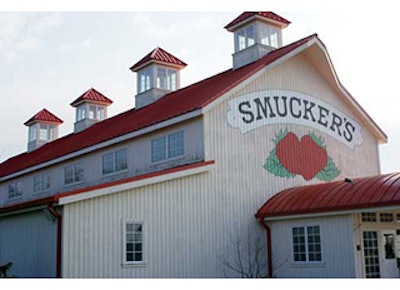 ORRVILLE, Ohio (AP) — J.M. Smucker lowered its guidance for fiscal 2015 as customers recoiled from rising prices for its coffee brand, Folgers. Its preliminary second-quarter forecast also disappointed Wall Street and shares slid more than 3 percent Wednesday.
Smucker, which makes Jif, Pillsbury and Hungry Jack in addition to its fruit spreads, anticipates second-quarter adjusted earnings of $1.53 per share, with sales down 5 percent. Analysts had been expecting $1.66 per share, according to a poll by FactSet.
Sales for the U.S. retail coffee segment are expected fall approximately 10 percent in the quarter compared with last year.
The Orrville, Ohio, company said that volume for its Folgers brand fell 20 percent in the quarter as consumers reacted strongly to higher prices. Smucker cited rising higher prices for unroasted coffee as the reason for the price hike, but it also blamed more severe competition and fewer effective promotional efforts.
Prices for coffee beans have surged this year partially due to a fungus that damaged crops in Guatemala, El Salvador, Honduras and other countries. Brazil, the world's largest coffee producer, was hit by a drought.
Looking at fiscal 2015, the company now expects adjusted earnings in a range of $5.45 to $5.65, with sales down about 1 percent. Its prior outlook was for adjusted earnings between $5.95 and $6.05 per share, with sales up 3 percent to 4 percent.
Wall Street is calling for earnings of $6.01 per share.
Shares of The J.M. Smucker Co. dropped $3.78 to $100.30.