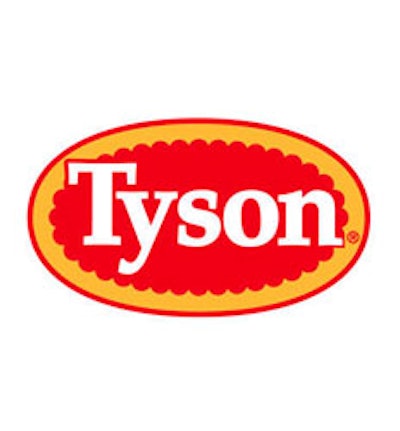 LITTLE ROCK, Ark. (AP) — The Oklahoma Supreme Court on Tuesday tossed a $10 million jury verdict against Tyson Foods Inc., granting the company's request for a new trial based on allegations of juror misconduct and a mistake on interpreting the law.
Springdale, Ark.-based Tyson Foods claimed on appeal that some prospective jurors in the trial in McCurtain County, Okla., didn't answer questions fully or truthfully on juror questionnaires and the trial judge didn't allow oral questions on items covered in the forms filled out by the panelists.
The high court also agreed with Tyson that the growers weren't covered by the Oklahoma Consumer Protection Act. Growers had argued that since Tyson provided them with feed and chicks, that gave them standing as consumers.
Tyson has a large operation in the region, with more than 180 poultry producers in southwest Arkansas and southeast Oklahoma that raise broilers for Tyson's plant in Broken Bow, Okla. That plant and its related operations, including a feed mill, employ more than 1,700 people.
In 2008, 54 growers, with Rusty Armstrong as lead plaintiff, sued Tyson, claiming that farmers who didn't want to modernize their equipment were given inferior feed and chicks. They claimed that Tyson had favored growers who got better feed and livestock.
Tyson had sought to try each case separately, but the judge broke the plaintiffs into groups and Tuesday's ruling involves the first group to go to trial. The other trials were suspended pending the result of Tyson's appeal.
After the 2010 jury verdict went in favor of the growers on a 9-3 vote, Tyson issued a statement saying the company was "very concerned about the legal climate in McCurtain County, and we are assessing all options available to us to address this injustice and to prevent it from happening again."
After Tuesday's high court ruling, Tyson said the justices were right to reverse the verdict and order a new trial.
"This decision affirms our position that the trial in this case was so improperly conducted that the verdict could not stand. The family farmers who raise our chickens are vital to our business and we want them to be successful. Contrary to the claims made in the case, we abide by the terms of the contracts we have with poultry farmers and we strive to ensure all of them are treated fairly," the company said in a news release.
The Supreme Court found that some jurors didn't reveal whether they were involved in other litigation or had criminal records.
"Here, several jurors gave incomplete, untruthful and/or misleading answers when completing the forms in a situation where the attorneys were not only discouraged but also barred from asking any questions covered in the juror questionnaire," the opinion states. "Under these facts ... we determine that Tyson is entitled to a new trial.
Attorney Glenn. D. Adams of Norman handled the appeal for the growers. He said Tuesday he had no comment. Trial attorney Mark C. Brodeur didn't return an after-hours message left at his Dallas law office.