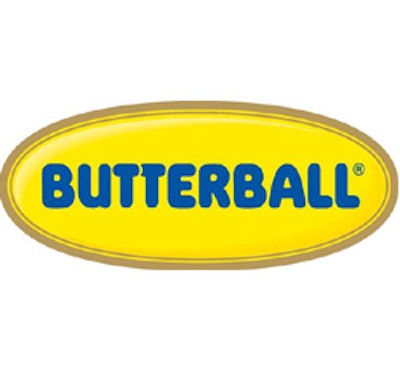 RALEIGH, N.C. (PRNewswire) — Hidden-camera video secretly shot at a North Carolina Butterball factory farm by an undercover investigator with the animal protection organization Mercy For Animals (MFA) has led to felony and misdemeanor animal cruelty charges of five Butterball employees by state authorities. Additionally, Dr. Sarah Jean Mason, the director of Animal Health Programs (Poultry Division) with the North Carolina Department of Agriculture, has pled guilty to obstruction of justice after admitting to leaking confidential information to Butterball about the criminal cruelty investigation by state law enforcement officials.
The names of the Butterball employees charged with criminal activity that have been released so far include Ruben Mendoza, Terry Bernard Johnson, and Jose Garcia. The charges stem from an MFA undercover investigation at a Butterball turkey semen collection facility in Shannon, North Carolina between November and December of 2011. The shocking undercover footage reveals:
Workers violently kicking and stomping on birds, dragging them by their fragile wings and necks, and maliciously throwing turkeys onto the ground or into transport trucks in full view of company management;
Employees bashing in the heads of live birds with metal bars, leaving many to slowly suffer and die from their injuries;
Turkeys covered in flies, living in their own waste, unable to access food or water and suffering from severe feather loss and necrotic (dead) muscles and skin;
Birds suffering from serious untreated illnesses and injuries, including open sores, infections, rotting eyes, and broken bones; and
Severely injured turkeys, unable to stand up or walk, left to die without any veterinary care, because treating sick or injured birds was too costly and time consuming, as the farm manager explained to MFA's investigator.
Mercy For Animals' undercover video shows that the lives of turkeys in Butterball's factory farms are brutal and filled with fear, violence and prolonged suffering. Butterball's turkeys have been selectively bred to grow so large, so quickly, that many of them suffer from painful bone defects, hip joint lesions, crippling foot and leg deformities, and fatal heart attacks. Due to the company's lack of meaningful animal welfare policies, training or procedures, Butterball subjects countless turkeys to immeasurable cruelty and neglect each year.
"We commend law enforcement for taking swift and decisive action in bringing these animal abusers to justice," said Runkle. "These arrests should send a clear message to the meat industry that cruelty to animals will not be tolerated."
To view the undercover video, visit ButterballAbuse.com.