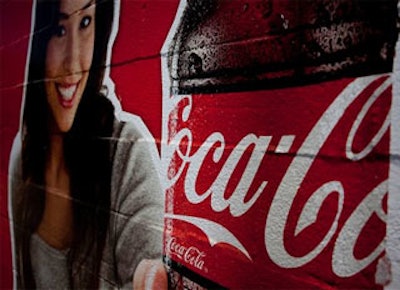 NEW YORK (AP) — The Coca-Cola Co. said Tuesday that it's selling more of its sodas, sports drinks and bottled waters in most parts of the world, with growth particularly strong in emerging markets.
The world's biggest beverage maker — which makes Minute Maid, Powerade and Dasani — said its sales volume rose 4 percent globally in the second quarter. Revenue growth was powered by higher prices in the U.S. and expansion in countries such as India, where volumes rose 20 percent.
Still, the company's second-quarter profit slipped as costs for ingredients rose as well.
There are signs, however, that those pressures will ease. Coca-Cola said it now expects ingredient costs for the year to be closer to $300 million, down from the $350-$450 million it previously forecast.
In the flagship North America market, the Atlanta-based company said sales volume rose 1 percent, while a mix of higher prices and smaller bottles and cans helped lift revenue 5 percent.
Volume for its sparkling beverages — or sodas such as Coke and Sprite — fell 2 percent.
Growth at home has been challenging at a time when consumers are losing their taste for sugary sodas and increasingly reaching for other options, such as sports drinks and bottled teas and waters.
As a result, Coca-Cola is looking beyond its namesake soda for growth in the U.S.. For example, sales volume of the company's still beverages, such as Powerade and Smartwater, rose 8 percent in the quarter. Its juice brands rose 3 percent, driven by growth in its lower-calorie Minute Maid offerings.
In Europe, the company said volume fell 4 percent. Coca-Cola blamed economic uncertainty and bad weather in several regions for the drop.
Given the challenges in developed markets, Coca-Cola is increasingly pinning its fortunes on emerging markets where the ranks of middle-class consumers are multiplying at a rapid clip.
In the U.S., for example, Coca-Cola estimates that the per capita consumption of its drinks on average is more than one 8-ounce serving per day. By contrast, consumers in India drink an average of just 12 servings over the span of an entire year.
As a result, Coca-Cola is racing to establish an early dominance in foreign markets that could help determine its growth trajectory in the years to come. Last month, for example, the company said it would accelerate its investment in India to $5 billion over the next eight years. That's more than double the $2 billion it invested since re-entering the country in 1993.
When taking into account all the drinks it offers locally, Coca-Cola now has a stable of more than 500 drinks.
Mark Swartzberg, a Stifel analyst, noted that Coca-Cola is investing in growth and that its revenue in the second quarter beat Wall Street expectations. He also noted that volumes could grow in the second half of the year, when Coca-Cola plans to ease its pricing.
For the three months ended June 29, the company said it earned $2.79 billion, or $1.21 per share. That's down from $2.8 billion, or $1.20 per share, in the year-ago period, when there were more outstanding shares.
Not including one-time items, the company said it earned $1.22 per share. Revenue rose 3 percent to $13.09 billion. Analysts polled by FactSet on average expected earnings of $1.19 per share on revenue of $12.89 billion.
Shares of Coca-Cola rose 42 cents to $76.90 in late morning trading after rising as high as $78.66 earlier in the session. That approached the high end of their 52-week range of $63.34 to $79.36.
Earlier this month, Coca-Cola shareholders approved a 2-for-1 stock split, the company's first in 16 years.