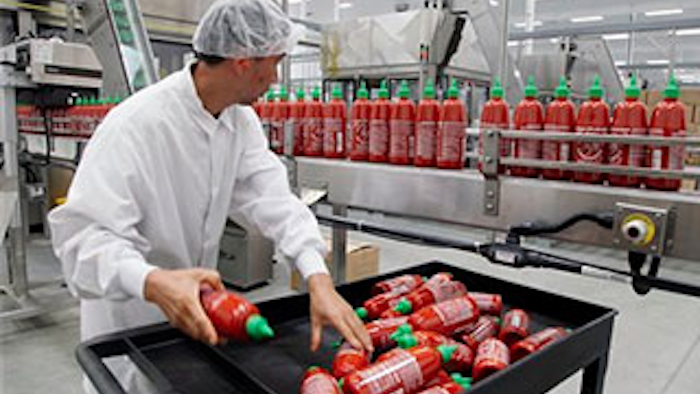 Sriracha chili sauce is produced at the Huy Fong Foods factory in Irwindale, Calif., on Tuesday, Oct 29, 2013. The maker of Sriracha hot sauce is under fire for allegedly fouling the air around its Southern California production site. The city of Irwindale filed a lawsuit in Los Angeles Superior Court Monday asking a judge to stop production at the Huy Fong Foods factory, claiming the chili odor emanating from the facility is a public nuisance. (AP Photo/Nick Ut)
LOS ANGELES (AP) — A judge has declined to act immediately on a request to close a factory that residents say is stinking up their Southern California city with spicy smells produced by the manufacture of the popular hot sauce Sriracha.
City News Service reports that Judge Robert O'Brien did agree Friday to take Irwindale's request for a preliminary injunction to close the plant under consideration. The judge didn't indicate when he might rule.
Huy Fong Foods says there is no reason to close the plant now because harvest season for red-hot Jalapeno peppers, the sauce's key ingredient, has passed.
Residents say when the peppers are ground into sauce during summer months their eyes water, they have trouble breathing and they must stay indoors.
The issue could eventually be resolved with a trial.