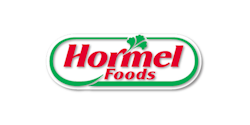 AUSTIN, Minn., Nov. 21, 2017 (PRNewswire) — Hormel Foods Corporation announced Tuesday that its Specialty Foods segment has been merged into its Grocery Products segment and will continue to be led by Luis Marconi, group vice president, Grocery Products. The primary focus of the segment is on delivering a strong branded portfolio of leading products to the evolving retail environment of food, drug, mass, club and E-commerce.
"I am confident that the consolidation of these two segments will deliver revenue and cost synergies in all aspects of the business while continuing to deliver industry-leading growth," said Jim Snee, chairman of the board, president and chief executive officer at Hormel Foods. "The Grocery Products segment will be a model for strategic management of iconic brands such as the SPAM family of products and SKIPPY peanut butter products, while also nurturing the continued growth of franchises like Wholly Guacamole dips, Muscle Milk protein products and Justin's nut butters."
About Hormel Foods
Hormel Foods Corporation, based in Austin, Minn., is a global branded food company with over $9 billion in annual revenues across more than 80 countries worldwide. Its brands include Skippy®, SPAM®, Hormel® Natural Choice®, Applegate®, Justin's®, Wholly Guacamole®, Hormel® Black Label® and more than 30 other beloved brands. The company is a member of the S&P 500 Index and the S&P 500 Dividend Aristocrats, was named one of "The 100 Best Corporate Citizens" by Corporate Responsibility Magazine for the ninth year in a row, and has received numerous other awards and accolades for its corporate responsibility and community service efforts. In 2016, the company celebrated its 125th anniversary and announced its new vision for the future - Inspired People. Inspired Food.™ - focusing on its legacy of innovation. For more information, visit www.hormelfoods.com and http://csr.hormelfoods.com/.