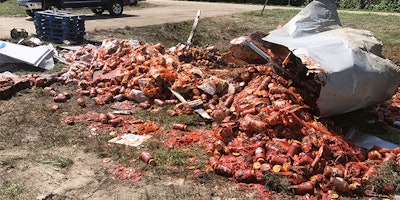 CAMDEN, Ark. (AP) — It's a smorgasbord on Arkansas highways, with the third food spill in as many weeks.
A truck driver distracted by a GPS unit crashed near the intersection of U.S. 278 and Arkansas 24 at Camden early Monday and spilled a truckload of spaghetti sauce. On Aug. 2, a tank car filled with bourbon crashed on Interstate 40 in eastern Arkansas and motorists on Interstate 30 had to leave the highway at Little Rock on Aug. 9 after a truck accident left frozen pizzas scattered about.
Camden police Sgt. Cory Sanders said the spaghetti sauce truck was headed to Dallas about 3 a.m. when its driver became distracted, then overcorrected and rolled over after crossing the center line of the highway. Sanders said the driver suffered minor injuries.