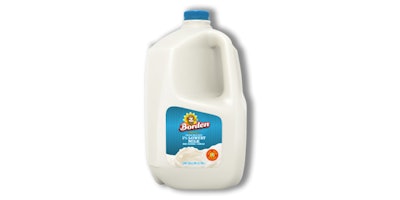 WASHINGTON, July 10, 2017 (PRNewswire) — ACON Investments, L.L.C. and its affiliates announced this week that it has completed an equity recapitalization of Borden Dairy Company, one of the leading fresh fluid dairy processors in the United States. In 2013, Borden was spun-off from a multinational conglomerate into a private company called Laguna Dairy, S.A. de C.V. Following the equity recapitalization, Laguna Dairy remains a substantial equity holder in Borden. Headquartered in Dallas, Texas, Borden operates 13 facilities across the United States with more than 500 million gallons of annual milk processing capacity.
"Borden is an iconic brand with more than 150 years of heritage. We are excited to be partnering with Laguna Dairy and Borden's management to accelerate the Company's growth and maintain its position as a market leader," said Aron Schwartz, Managing Partner of ACON. "We think this is a powerful example of how ACON's presence in the United States and Latin America can be leveraged to create deal flow and bespoke solutions for families and strategic owners across the Americas," added Mr. Schwartz.
"This transaction confirms the value we have built during our ownership of Borden," said Steve Gorman, General Manager of Laguna Dairy. "We have been searching for the right investor and believe in ACON we have found a capital partner that will maximize the potential of Borden," added Mr. Gorman.
"Dairy is a dynamic segment and Borden is well positioned to capitalize on a wide range of exciting opportunities," said Adam Kriger, who has served as an ACON consultant and has joined Borden's Board effective as of the close of the equity recapitalization. "I look forward to working with ACON and management to formulate strategies, grow the Company with new and adjacent products and drive significant value creation." With more than 25 years of experience at world-class companies, including The Walt Disney Company, Starwood Hotels and McDonald's Corporation, Mr. Kriger brings significant expertise in formulating and driving strategic initiatives.
Concurrent with the equity recapitalization, the Company secured new debt facilities from GSO Capital Partners and PNC Bank. Arnold & Porter Kaye Scholer LLP acted as legal adviser to ACON. Dechert LLP acted as legal adviser to Laguna Dairy. Houlihan Lokey and Andrews Kurth Kenyon LLP advised Borden.
Terms of the transaction were not disclosed.
About Borden
Founded in 1857, Borden is a dairy processor operating 13 facilities in the Midwest, southern and southeastern regions of the United States. The Company provides milk products to customers in the grocery, mass market, club, food service, hospitality, school and convenience store channels.
About ACON Investments
ACON Investments, L.L.C. is a Washington, DC-based international private equity investment firm that manages private equity funds and special purpose partnerships that make investments in the United States and Latin America. Founded in 1996, ACON has responsibility for managing approximately $5.5 billion of capital. ACON has professionals in Washington, DC, Los Angeles, Mexico City, São Paulo and Bogotá. For more information, visit www.aconinvestments.com.