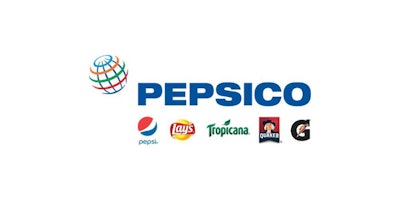 PURCHASE, N.Y., May 11, 2017 (PRNewswire) — PepsiCo, Inc. on Thursday announced that it has signed an agreement with Partnership for a Healthier America to independently report and verify the company's progress against previously outlined goals designed to transform its product portfolio and offer healthier options.
PepsiCo's goals, which were announced last October and informed by World Health Organization and other authorities' guidelines, include a focus on reducing added sugars, saturated fat and sodium levels. In addition, the company is focused on offering more positive nutrition such as whole grains, fruit and vegetables, dairy, protein and hydration, as well as greater access to nutritious foods and beverages in underserved communities.
The specific goals that PHA will track focus on added sugars, saturated fat and sodium. By 2025, PepsiCo expects that:
At least two-thirds of the company's global beverage portfolio volume sold will have 100 Calories or fewer from added sugars per 12-oz (355 ml) serving.
At least three-quarters of the company's global foods portfolio volume sold will not exceed 1.1 grams of saturated fat per 100 Calories.
At least three-quarters of the company's global foods portfolio volume sold will not exceed 1.3 milligrams of sodium per Calorie.
"PepsiCo's continued focus on delivering Performance with Purpose has fueled our growth and is positioning our company for future success. We continue to place great emphasis on transforming our product portfolio to meet changing consumer and societal needs, and we're proud of the progress we've achieved to date" said PepsiCo Chairman and CEO Indra Nooyi. "Our agenda for the next ten years includes ambitious goals to further improve the nutritional profile of our products and expand our range of wholesome and nutritious offerings. We are deeply committed to working to achieve these goals, and we welcome Partnership for a Healthier America's role in reporting on our progress."
PHA CEO Lawrence A. Soler added: "PepsiCo's vision to transform their products to meet consumer demand for healthier options is a win for the company and a win for consumers. We look forward to evaluating PepsiCo's progress and sharing it publicly."
PepsiCo's decade-long commitment to Performance with Purpose is rooted in the belief that business success is inextricably linked to the sustainability of the world we share. In addition to its focus on portfolio transformation and offering healthier options, as part of this overarching vision, PepsiCo is also focused on protecting our planet, making the food system more sustainable and empowering people around the world. For more information on Performance with Purpose, please visit: https://www.pepsico.com/purpose/performance-with-purpose.
About PepsiCo
PepsiCo products are enjoyed by consumers one billion times a day in more than 200 countries and territories around the world. PepsiCo generated approximately $63 billion in net revenue in 2016, driven by a complementary food and beverage portfolio that includes Frito-Lay, Gatorade, Pepsi-Cola, Quaker and Tropicana. PepsiCo's product portfolio includes a wide range of enjoyable foods and beverages, including 22 brands that generate more than $1 billion each in estimated annual retail sales.
At the heart of PepsiCo is Performance with Purpose – our fundamental belief that the success of our company is inextricably linked to the sustainability of the world around us. We believe that continuously improving the products we sell, operating responsibly to protect our planet and empowering people around the world is what enables PepsiCo to run a successful global company that creates long-term value for society and our shareholders. For more information, visit www.pepsico.com.
About Partnership for a Healthier America
The Partnership for a Healthier America (PHA) is devoted to working with the private sector to ensure the health of our nation's youth by solving the childhood obesity crisis. In 2010, PHA was created in conjunction with—but independent from—First Lady Michelle Obama's Let's Move! effort. PHA is a nonpartisan, nonprofit organization that is led by some of the nation's most respected health and childhood obesity experts. PHA brings together public, private and nonprofit leaders to broker meaningful commitments and develop strategies to end childhood obesity. Most important, PHA ensures that commitments made are commitments kept by working with unbiased third parties to monitor and publicly report on the progress our partners are making. For more information about PHA, please visit www.ahealthieramerica.org and follow PHA on Twitter @PHAnews.