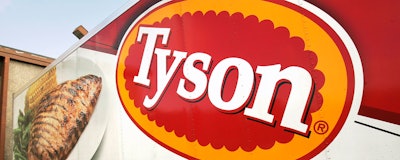 CHICAGO, May 2, 2017 (PRNewswire) — The entire retail line of Tyson branded chicken products will be from birds raised with No Antibiotics Ever (NAE), Tyson Foods announced, making the company the world's leading provider of chicken raised with no antibiotics. Products have now begun to appear on shelves at grocery stores nationwide. Coinciding with the NAE announcement, a documentary film series is being released that gives people an inside look at Tyson products, practices and more.
The series, filmed by award-winning documentarian Daniel Junge, addresses a variety of misconceptions about the brand – from how chickens are raised to what's inside a Tyson chicken nugget. The first video in the series just launched, with the remaining rolling out online and across social media over the next several weeks.
"The videos and our No Antibiotics Ever commitment represent a big step for the Tyson brand in our efforts to act sustainably and transparently," said Duke Zandstra, senior marketing director for the Tyson brand. "Our goal is to show what good can come when a food company the size and scale of ours opens its doors and invites people in."
Junge met with farmers and their families, plant workers, chefs, animal well-being experts, veterinarians, hatchery managers, truck drivers and others. He also met with the company's namesake and chairman, John Tyson. His comments are featured in the video series.
"I was excited to go where cameras aren't typically allowed," said Junge. "To go behind the scenes of a big chicken producer is intriguing to me. I was interested in seeing the reality behind a lot of the stories you hear about 'big food' and was impressed with the access Tyson Foods provided me to do exactly that."
The first video takes viewers inside a chicken farm to show how independent farmers raise Tyson chickens and addresses misconceptions about where the company sources its chickens. Additional videos in the series will address a range of topics including a detailed demonstration of how Tyson chicken nuggets are made and an interview with a veterinarian about the move to No Antibiotics Ever. All video content will be available to view on www.tyson.com/our-practices.
What the videos don't answer, the Tyson brand team is inviting people to ask on its Facebook page. Experts will be on-hand to answer and further demonstrate the company's commitment to transparency.
"We're working to drive positive change at scale and are constantly striving to do better," said Zandstra. "It's important we invite people in and along for the journey. In the end, we hope people feel good about Tyson chicken when they head to the grocery store."