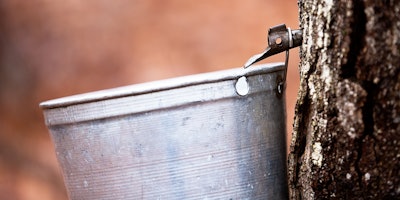 BRATTLEBORO, Vt. (AP) — Brooke Shields' gift list is sweetening a Vermont family farm's sale of maple syrup.
The 109-year-old Robb Family Farm in Brattleboro says it's seen a 60 percent jump in sales since the actress listed the syrup among her 12 best holiday gifts for women published in People Magazine's holiday gift guide last month.
Shields told the magazine: "We go through a lot of maple syrup in our house."
The Robbs got an email from a writer at People saying a celebrity was recommending their syrup in the gift guide, but they weren't told who it was.
"So I was concerned who the celebrity might be for obvious reasons," said Helen Robb laughing. "But she kept telling me it was a good celebrity, that it was fine. And I thought, but your good and my good might differ. But we were pleased when it was Brooke."
Shields' list includes the $14.95 pint-sized tin of syrup, a skincare travel set, a scarf, a necklace, a book, pens and $100 Hermes playing cards.
The Robbs sell their maple syrup at their farm store, a local store and online to customers around the country.
They sell it in a number of different containers — plastic and glass jugs. But ever since the photo of the retro State of Vermont syrup can with the images of two men in a horse and sleigh collecting sap appeared in People, the Robbs have sold at more cans than usual, at least 80.
The family is expanding its maple operation after getting out of dairy farming five years ago because of low milk prices paid to farmers. They now raise beef cattle. Last year, they made over 800 gallons of syrup.
They were almost out of the sweet stuff when the orders started coming in from People readers, Robb said. "Cross our fingers we have enough," her son, Charles Robb Jr., added.