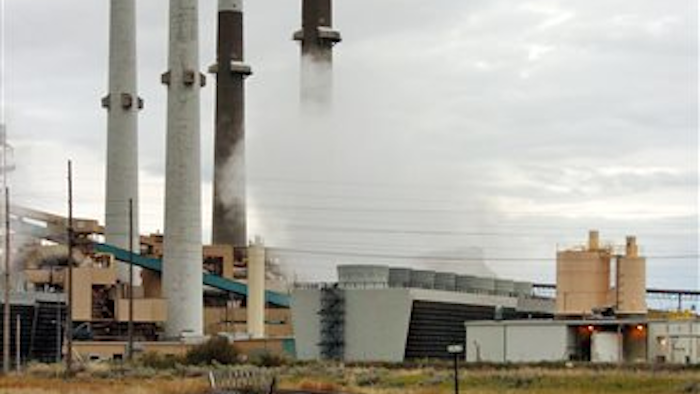 ALBUQUERQUE, N.M. (AP) — New Mexico regulators are close to making a decision on what experts have called a watershed case that could influence energy policy in the state for years to come.
In response to federal pressure, the state's largest electric utility, Gov. Susana Martinez's administration and others negotiated a plan to shut down two units at the San Juan Generating Station by 2018.
The plan has been the subject of numerous hearings and hours of expert testimony. Another public meeting is scheduled Wednesday in Albuquerque.
Here are things to know as the state Public Regulation Commission considers whether to sign off on the proposal:
___
CURBING POLLUTION
San Juan produces electricity for more than 2 million people in the Southwest. While a $320 million investment was made in pollution controls in recent years, the plant stands to violate regional haze standards established by the federal government. The Public Service Company of New Mexico (PNM) says shutting down part of the plant and installing more pollution controls on the remaining units would bring it into compliance as well as reduce carbon-dioxide and mercury emissions by as much as 50 percent.
___
FILLING THE VOID
PNM wants to replace the lost electricity with a mix of coal from one of San Juan's other units, electricity generated by the Palo Verde nuclear plant in Arizona, a new natural gas-fired plant and more solar generating stations. Environmentalists and some consumer advocacy groups argue the plan doesn't do enough to wean the state's largest utility off fossil fuels and that ratepayers could be locked in to coal and nuclear power for years to come.
___
THE PORTFOLIO
More than 60 percent of electricity generated by PNM in 2014 came from coal. Solar, wind and geothermal sources totaled just over 7 percent. If state regulators were to approve the partial closure of San Juan and the power-replacement plan, the utility says coal generation would drop below 50 percent and nuclear would to increase to one-third. Renewables would total more than 11 percent.
___
LONGTERM INVESTMENT
The utility's regulatory filings estimate the cost over 20 years at more than $6.8 billion. PNM and others say the plan represents the most cost-effective alternative for customers. But consumer advocates have accused PNM of withholding from regulators information about the price tag. The group New Energy Economy contends the utility has failed to weigh the costs of environmental regulations, the disposal of coal-ash waste generated by San Juan and the decommissioning and cleanup costs associated with nuclear power.
___
MONTHLY BILLS
According to PNM, customers would be asked in 2018 to help cover the cost of closing part of San Juan, installing pollution controls on the plant's remaining units and bringing the replacement power online. The average ratepayer's monthly bill could increase by 7 percent, or about $5.25.
___
WHAT'S NEXT
A hearing officer will weigh weeks of expert testimony along with comments gathered during public meetings in Santa Fe, Farmington and Albuquerque before making a recommendation. The Public Regulation Commission will have the final say.