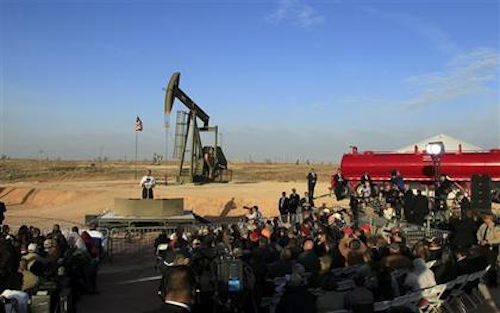 A recent report projects that the global market for oilfield chemicals increased by more than 50 percent between 2010 and 2014 amid a dramatic increase in fracking activity in North America.

The analysis, however, also expects plummeting oil prices to slow that growth over the subsequent five-year period.

Colorado-based data firm IHS estimated that the oilfield specialty chemical market climbed from $16 billion in 2010 to $25 billion last year. By contrast, the report anticipated that the market will increase to more than $30 billion by 2019.

"We expect demand for these chemicals to continue to grow, but at a much slower rate than in the previous period," said Stefan Schlag, the report's lead author.

IHS analysts expected oil production to increase over the next five years, but they said that low prices will curb more expensive exploration activities and affect sales of chemicals involved in those processes.

Oilfield companies utilize chemicals to aid drilling, cement pipes and encourage the flow of crude oil. The latter category is used primarily in fracking, which breaks up underground shale rock through a highly pressurized combination of sand, water and chemicals.

The U.S. and Canada accounted for 94 percent of overall consumption of those stimulant chemicals, according to the report.